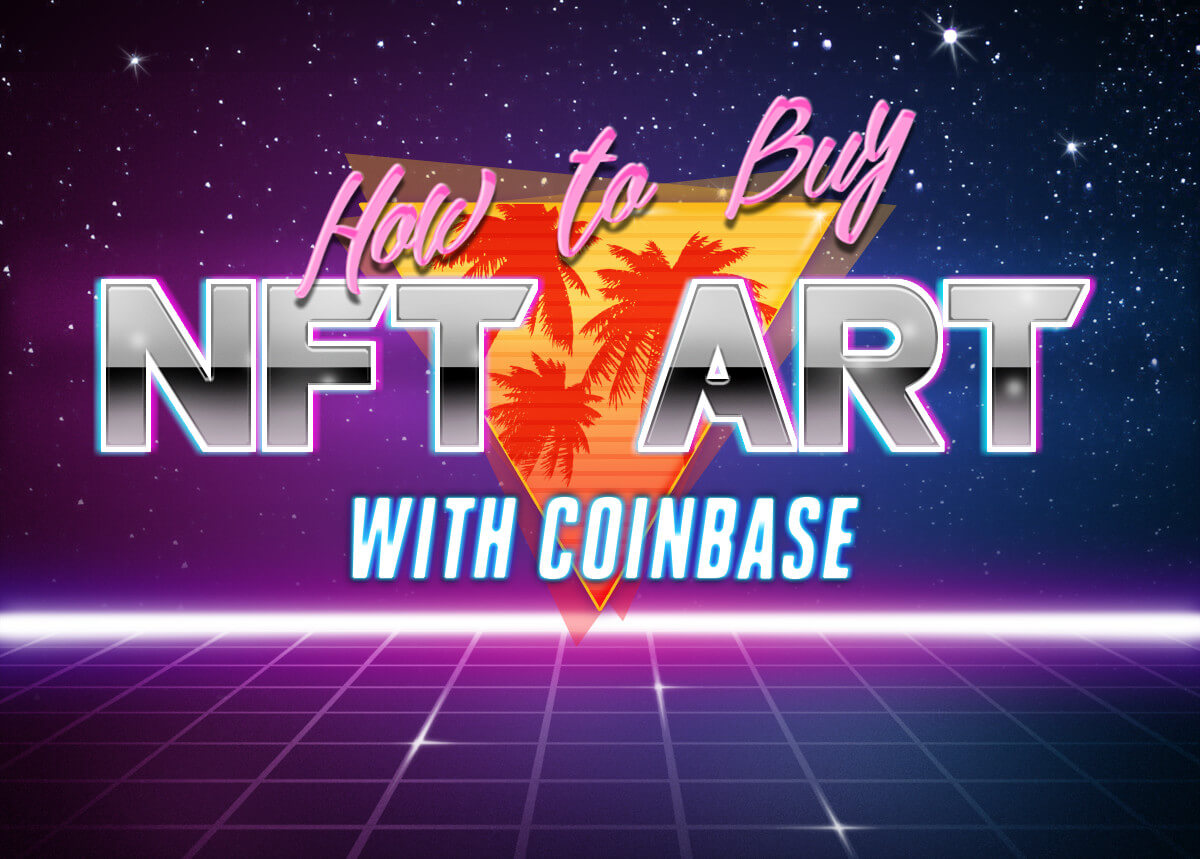 UPDATE NOVEMBER 2021
While this article was originally written to guide new Coinbase users who wanted to utilize crypto to buy NFTs for the first time, the situation has slightly changed. Coinbase has announced that they will be launching an official NFT marketplace very soon. They even have an official Coinbase web3 wallet now. To gain early access to this marketplace, you can click the link below and join their official waitlist:
While the new Coinbase NFT marketplace will likely be the easiest way to buy art with their platform, if you still want to have access to all possible NFT platforms you'll want to follow the instructions below.
NFTs are quite possibly the hottest trend in cryptocurrency right now. Searches for the term as tracked by Google Trends continue to hit new highs, SNL is making skits, and artists are capitalizing on the ability to sell exciting genres of art directly to an increasing number of collectors around the world.
This has many people looking to get in on the hype.
And that's most likely how you've found your way here. We've put together this guide for anyone who is trying to take part in the NFT community but doesn't quite know where to get started. This has left many people searching for "buying NFTs on Coinbase" because Coinbase happens to be one of the most well-known and highly-trusted crypto exchanges in the world.
So let's get this out of the way: You cannot buy NFTs directly via Coinbase. This could possibly change at some point in the future, but for right now there is no functionality built into either Coinbase or Coinbase Pro to allow you to buy and sell NFTs on the platform.
Then what should you do? Luckily, if you can buy crypto on Coinbase, you're 90% of the way to being able to buy NFTs. Most of the popular NFT marketplaces operate via Ethereum, and Coinbase allows you to easily buy and withdraw Ethereum once you have a verified account. There is also a smaller NFT community that is growing via the Tezos crypto ecosystem (an Ethereum competitor), and this token is also available on Coinbase. Buying either of these tokens will set you up to be able to buy NFTs (see Important Note 2 below for more critical info for making your purchase decision).
If you're ready to sign up for Coinbase, you can use my referral link below and receive $10 in free Bitcoin if you buy or sell $100 or more of any crypto.
Step 1 – Buy Crypto on Coinbase
The video above is a great primer that will teach you how-to quickly and easily buy crypto on Coinbase. This step in the process is fairly easy, just be sure that you purchase Ethereum or Tezos as these are the only two tokens offered by Coinbase (at the time of writing this article) that offer NFT functionality within their ecosystems.
Important Note: There are plenty of Coinbase alternatives that can be used for this step as well. The key thing is you need to find an exchange that will not only let you buy crypto but also let you withdraw it. If you aren't able to withdraw your crypto, you won't be able to complete the next steps.
Important Note 2: Quick breakdown on the Tezos vs Ethereum decision regarding what to buy: Ethereum has a MUCH larger NFT community than Tezos. There are all sorts of projects that are built on Ethereum and the majority of what you'll likely want to buy will require ETH. However, Ethereum is very expensive to use these days due to high network congestion. Generally, to buy an NFT on Ethereum, you will be paying at least around $100 in transaction fees. If you're going to be purchasing a $5000 NFT…not so bad. If you want to dabble and buy something for $5? Well that'd be a little ridiculous. Therefore, if you're looking to simply try out the process of purchasing NFTs without making a large cost commitment, Tezos will be your best bet.
Step 2 – Figure Out What Wallet You Want to Use to Buy NFTs
Once you have your crypto purchased, you will need to withdraw it to a wallet that will allow you to interact with NFT marketplaces. The video below was made for instructing users on how to send crypto from Coinbase to Metamask, but it can be followed just as easily as a walkthrough for funding any wallet outside of Coinbase:
Coinbase also has a text guide for sending crypto to an external wallet here.
Many different wallets will do the trick for purchasing NFTs, but my recommendations are:
These are both browser wallets, and I recommend them because they tend to be the easiest way to interact with platforms that sell NFTs. You don't have to use a web browser wallet to buy NFTs, but as a beginner it will likely be the easiest option for you. But please remember: Browser wallets are used at your own risk and you should be very careful about keeping large amounts of money on them. Follow all the security tips offered during the set-up process and be sure to save the recovery phrase for whatever wallet you use.
Once you have your wallet picked out and funded via a withdrawal from Coinbase, it's time for the fun part…
Step 3 – Buy Some NFTs
Ready to do some shopping? Check out the resources below and find the NFT of your dreams!
Our top recommended NFT marketplaces for Ethereum are:
Our top recommended NFT marketplaces for Tezos are:
Opensea & Rarible Metamask Walkthrough (Ethereum)
Buying on Opensea (Ethereum)
Buy on Hicetnunc (Tezos)
Looking to publish your own NFTs? Do so easily via Hicetnunc (Tezos)
We hope you enjoyed this walkthrough! If you need any further help, feel free to reach out on Twitter via @postersofcrypto.
[Total:

243

Average:

1.1

/5]