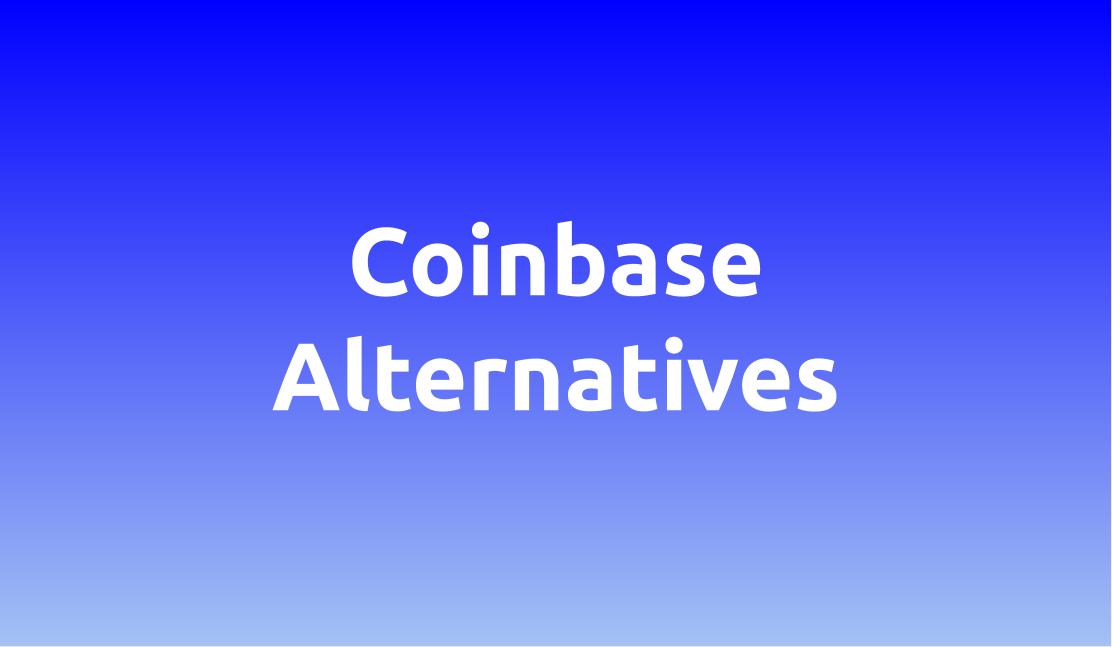 If you're a cryptocurrency user or someone who is thinking of making a crypto purchase for the first time, you've likely heard of Coinbase. Launched in October of 2012, they have the distinction of being one of the first United States-based platforms to allow for the quick and easy purchase of Bitcoin via a bank transfer. At that time it was a huge step forward for the industry because many people were still wiring money to offshore exchanges when they wanted to buy Bitcoins. Having a simple purchasing platform in the United States was a game-changer for a geographic market that is now home to one of the world's largest concentrations of crypto users.
This first mover advantage has proven to be influential in their success. As of December 2018, they are one of four crypto exchanges in the world with more than 100,000 active users (and the only one based in the United States). Officially, they claim "20M+ customers served" and "$150B+ in digital currency exchanged". There's no doubting the position they have as a powerhouse in the industry.
Of course, when you're at the top, there's a big target on your back. They dominate the U.S. market at the moment, but the wide-open competition of the crypto industry has allowed a number of competitors to build product offerings with comparable levels of service. At this point there isn't a clear winner that can lay claim to being the best option, but there are some great choices available if you're wondering what other apps are like Coinbase.
How am I qualifying these options? My criteria is as follows:
Beginner friendly. This is a bit subjective, but it means that you should be able to get started and purchase crypto without any advanced trading knowledge.
Widely available. The service has to be available to a majority of the United States population (some States can be excluded).
No wire transfers required. Funding has to be available with a normal U.S. checking account or debit / credit cards.
Price markup needs to be reasonable. Many websites will offer direct crypto purchases to U.S. residents with a bank account or credit card, but will charge an obscene markup from the current spot price. Coinbase has a markup of roughly 4%, so that's what we're aiming for.
Android and iPhone apps. Coinbase is largely successful due to convenience, so any self-respecting competitor will need the convenience of a mobile app.
The Coinbase Alternative Options
If you're looking for a platform that is a true Coinbase alternative, these are your best options:
Check out my breakdowns below to see how each of these services stack up to the market leader. Please Note – I received no payment from the service providers listed to be featured in this blog. However, the links below do contain my own personal referral links for each platform: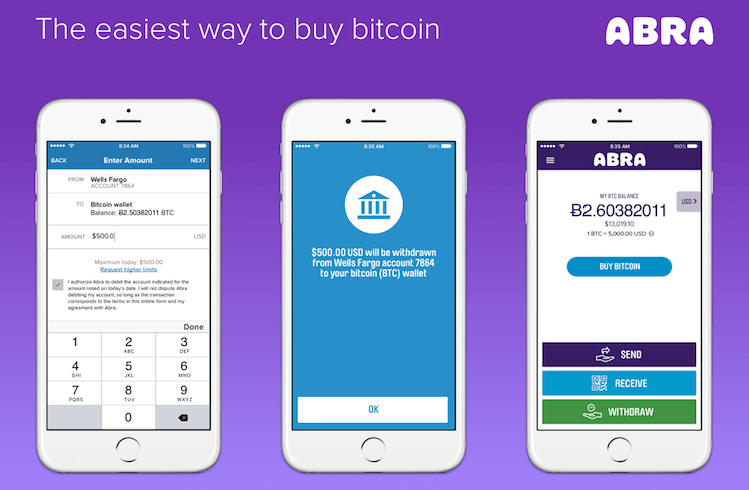 If you're looking for a simple platform that more closely matches Coinbase's selection of cryptocurrencies, Abra will likely be your provider of choice. They actually far exceed the selection of the market leader with the ability to invest in 30 different cryptos via the same app.
Set-up is simple with a quick app download, entry of personal information, and bank account / credit card connection process. But there is one interesting quirk. You will need to ensure that you write down the seed phrase tied to your Abra account. This phrase is a string of words that will be generated when you first install the app. If you lose this phrase, you lose access to all funds in your account so it is vital that you save it in a secure location.
While the other services in this article take care of managing your balances for you, Abra is (for better or worse) closely aligned with the cryptocurrency ideals of independence and decentralization. They state "The Abra model is 100% peer-to-peer, with no middle man ever holding, managing or touching your funds at any point in any transaction. So you are in control of your money!" This is nice because you are guaranteed that Abra can't run off with your crypto. Managing the safety of your money is entirely in your hands.
Abra vs Coinbase
| | | |
| --- | --- | --- |
| Features | Abra | Coinbase |
| Buy Bitcoin | Yes | Yes |
| Withdraw Bitcoin | Yes | Yes |
| Deposit Bitcoin | Yes | Yes |
| Sell Bitcoin | Yes | Yes |
| Buy Altcoins | Yes | Yes |
| Withdraw Altcoins | Some | Yes |
| Deposit Altcoins | Some | Yes |
| Sell Altcoins | Yes | Yes |
| Approximate Purchase Fees* | ~0.5-1% | ~4% |
| Excluded U.S. States | None | Hawaii |
| Sign-Up Reward | $25 | $10 |
The highlight above is obviously the attractively low purchasing fees. Abra is proud to advertise that "you can buy cryptocurrencies with some of the most competitive rates in the market."
The official statement from Abra is that: "We don't currently charge fees on currency exchanges, but Abra does generate exchange rate income on the spread between different currencies, which goes to cover our costs and generate a small profit for Abra. For instance, if you convert US Dollars to Bitcoin, or Ethereum to Ripple, there will be a small spread built into the exchange rate that you see on the app."
Another highlight is their sign-up reward. It's simply the best in the business. Coinbase offers you $10 only if you sign up with a referral and buy or sell at least $100 of crypto. On the other hand, Abra gives you $25 in Bitcoin once you sign up with a referral and deposit $5 (or more) using a US bank account, or eligible American Express card. This is quite generous and shows that Abra is serious about attracting new users to try their platform.
As well as providing reasonable rates on crypto purchases and rewards to new users, Abra offers direct purchase of the following coins to app users:
Bitcoin
Ethereum
XRP
Bitcoin Cash
Litecoin
Dash
Ethereum Classic
ZCash
OmiseGo
Qtum
Dogecoin (Read How to Buy Dogecoin)
Golem
Vertcoin
BitcoinGold
Stellar
DigitByte
Augur
Status
Stratis
0x
Monero
NEM
NEO
Lisk
Verge
BAT
Cardano
Tron
EOS
Siacoin
While this selection is impressive, it does come with caveats. You are allowed to invest in these cryptocurrencies with Abra, but users cannot actually withdraw or deposit them via personal cryptocurrency wallets. Abra only supports deposits and withdrawals of so-called "native coins". These are Bitcoin, Bitcoin Cash, Ethereum and Litecoin.
Abra seems obsessed with pushing the limits of what they can offer. There is also an indice product to purchase a basket of 10 cryptos and they recently rolled out stock and ETF investing backed by Bitcoin. With an impressive list of features and more being announced every day, Abra seems committed to continuing their progress as a worthy option for U.S. users. Still looking for more info? Check out our dedicated Coinbase vs Abra blog.
To try out Abra, you can use my referral link below. With that link you'll receive a $25 Bitcoin reward if you deposit $5 (or more) using a US bank account, or eligible American Express card. If you would rather use Coinbase instead, you can use this link to receive $10 of free Bitcoin when you buy or sell at least $100 of cryptocurrency.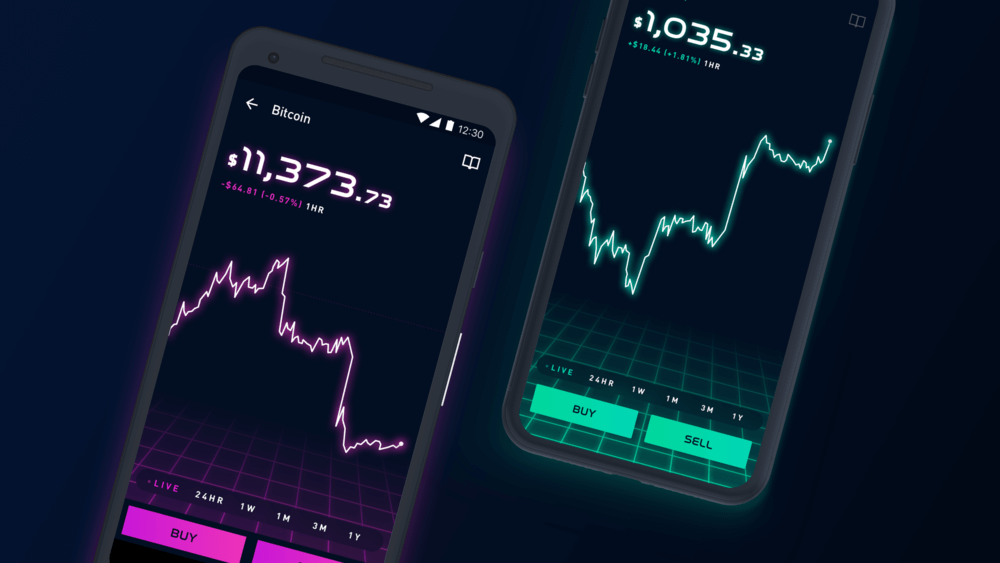 If your motivation for exploring cryptocurrencies is strictly focused on quick-and-easy investing, Robinhood may be the choice for you. They added cryptocurrency trading to their massively popular stock trading app in February of 2018.
Setting up your account is done via their app, but they do request a little more information than the other providers in this article. For one, they require a Social Security Number. This is because of the stringent regulations they must comply with as a platform that sells traditional investment vehicles such as stocks. If you don't mind providing this information, fill out the forms, connect your bank account, and you're good to start investing in crypto.
Robinhood vs Coinbase
| | | |
| --- | --- | --- |
| Features | RH | Coinbase |
| Buy Bitcoin | Yes | Yes |
| Withdraw Bitcoin | No | Yes |
| Deposit Bitcoin | No | Yes |
| Sell Bitcoin | Yes | Yes |
| Buy Altcoins | Yes | Yes |
| Withdraw Altcoins | No | Yes |
| Deposit Altcoins | No | Yes |
| Sell Altcoins | Yes | Yes |
| Approximate Purchase Fees* | 0% | ~4% |
| Excluded U.S. States | 15 States | Hawaii |
| Sign-Up Reward | Free Stock | $10 |
Excluded states are Delaware, Hawaii, Kentucky, Louisiana, Maine, Maryland, Minnesota, Nebraska, Nevada, New Hampshire, New York, North Carolina, South Carolina, Vermont, and Wyoming.
As you may be realizing now from the Social Security Number and Excluded U.S. States, Robinhood is a platform that takes compliance and regulation seriously. They minimize their risk. While this means that less people are able to use the platform, it does offer one excellent benefit to those who do get to enjoy the platform: low fees.
Robinhood has made their name in the world of stocks by offering commission-free investing, and this is no different when it comes to their crypto offering. The price you see on Robinhood for bitcoins and other cryptos is the price you get. This is because it is a true marketplace and you are buying / selling against other users directly.
Like I mentioned at the beginning of the breakdown, this is excellent if you only want to invest in cryptocurrencies. But if you want to actually use crypto outside of the Robinhood app? You're out of luck. There is no ability for users to either deposit or withdraw bitcoin or altcoins from the app. Robinhood's statement on the matter is that "At this time we don't support coin withdrawals, though we plan to do so in the future."
However, if you have no problems with safe and simple investing via Robinhood's walled garden, it's hard to turn down their 0-fee approach. They also have a respectable selection of altcoin investment options including:
Bitcoin Cash
Bitcoin SV
Dogecoin (Learn How to Buy Dogecoin)
Ethereum
Ethereum Classic
Litecoin
While their limited options may be frustrating to some, Robinhood is a welcome competitor that is filling an interesting use case for traditional investors that want to dabble in cryptocurrencies. It will be exciting to see how they grow this portion of their platform through the coming years. Their slick marketing and track record of success make them a dark-horse contender to become the powerhouse onramp for U.S. consumers looking to move from fiat to crypto in the coming years.
As an incentive, Robinhood offers free stocks to new users that sign up up via an invitation from existing users. You can get this offer by using my referral link below. If you would rather use Coinbase instead, you can use this link to receive $10 of free Bitcoin when you buy or sell at least $100 of cryptocurrency.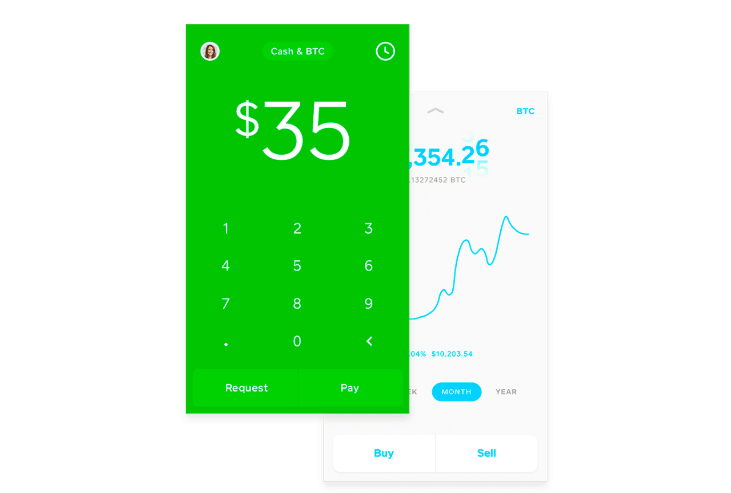 If all you care about is buying and using Bitcoin, Square's Cash App is the most impressive challenger to Coinbase in the United States. Cash App is a great personal wallet app that is primarily aiming to be a competitor to Venmo and Paypal. They jumped into the crypto world by adding the option to buy and sell Bitcoin in January of 2018.
Set-up is easy and involves downloading the app, creating an account, then connecting either a bank account or credit card for funding.
Cash App vs Coinbase
| | | |
| --- | --- | --- |
| Features | Cash App | Coinbase |
| Buy Bitcoin | Yes | Yes |
| Withdraw Bitcoin | Yes | Yes |
| Deposit Bitcoin | No | Yes |
| Sell Bitcoin | Yes | Yes |
| Buy Altcoins | No | Yes |
| Withdraw Altcoins | No | Yes |
| Deposit Altcoins | No | Yes |
| Sell Altcoins | No | Yes |
| Approximate Purchase Fees* | ~1.5% | ~4% |
| Excluded U.S. States | None | Hawaii |
| Sign-Up Reward | $5 | $10 |
As you can see, while Cash App is excellent if you're interested in Bitcoin, it is severely lacking in regards to altcoin options. There are none available in contrast to the selection on Coinbase of BAT, Bitcoin Cash, Ethereum, Ethereum Classic, Litecoin, ZCash, USDC, and 0x.
Even though there is a lack of altcoins, Cash App does stand out from Coinbase thanks to its generous fee structure. While Coinbase will charge a roughly 4% markup via fees, Cash App's fee hovers around 1.5% based on my own personal use.
The official statement from Cash App is that: "Your exchange rate for buying and selling Bitcoin through the Cash App is calculated using the current market rate across the most popular U.S. exchanges, plus a spread determined by the size of your transaction and market volatility. The exchange rate may differ between transactions, and may also differ from exchange rates available to you from other buyers and sellers of Bitcoin."
Cash App also performs the vital function of allowing you to withdraw the bitcoins you purchase via their platform. This means that if you actually want to use your purchased bitcoins (as opposed to simply buying as an investment), you will be able to move them to a personal wallet via the withdrawal function. Keep in mind that this does not flow both ways. Users are currently unable to deposit bitcoins to sell on the Cash App. So, if you take coins off the app, you will need to find a different service if you later decide to convert the bitcoins back to USD.
Cash App says they're "working hard to bring support for bitcoin deposits from third party wallets to Cash App." While this may be frustrating to some users, others may appreciate the elegant simplicity of the app. It has a function (buying BTC) and performs it well. Square CEO Jack Dorsey is also a public Bitcoin maximalist which has made his app a darling for supporters of crypto's oldest currency.
To try out Cash App, you can use my referral link below (you'll receive a $5 credit and I will as well). If you would rather use Coinbase instead, you can use this link to receive $10 of free Bitcoin when  you buy or sell at least $100 of cryptocurrency.

While all the other options on this list seem to stand out in their own way, Gemini is the closest competitor you can find that appears to want to directly eat Coinbase's lunch. Founded in June 2013 by the infamous Winklevoss twins, the exchange has been running since 2015 but was slow to offer a retail product to individual investors as they sorted through the regulations of all 50 US States. However, all (save Hawaii) are now active.
The Gemini product offering is extremely similar to Coinbase as you'll see in the comparison table below. Gemini even offers their own US Dollar stablecoin that is built on Ethereum just like the USDC stablecoin. However, there are a few key differences between these two when you pull back the curtain.
You can access Gemini via desktop or their iPhone and Android apps. Registration is fairly simple and once you have a bank account connected you will be ready to purchase cryptocurrency.
Gemini vs Coinbase
| | | |
| --- | --- | --- |
| Features | Gemini | Coinbase |
| Buy Bitcoin | Yes | Yes |
| Withdraw Bitcoin | Yes | Yes |
| Deposit Bitcoin | Yes | Yes |
| Sell Bitcoin | Yes | Yes |
| Buy Altcoins | Yes | Yes |
| Withdraw Altcoins | Yes | Yes |
| Deposit Altcoins | Yes | Yes |
| Sell Altcoins | Yes | Yes |
| Approximate Purchase Fees* | ~2-5% | ~4% |
| Excluded U.S. States | Hawaii | Hawaii |
Right away you can understand the clear competition between these two platforms. The feature set is almost identical from one to the other. Gemini also sets itself apart from the rest of the choices in this article by allowing you to deposit and sell all the altcoins offered on their platform. These altcoins are:
Ethereum
Bitcoin Cash
Litecoin
ZCash
Gemini's fee structure adjusts dynamically based on how much you are buying via their app. Fees are subject to change, but as of this article's writing fees for a $50 purchase were 4.5%. However, when that purchase was increased to $100, fees were 3.5%. At $300, fees were 2%.
It is crucial to mention that here is a strange distinction between the desktop and app products for Gemini. While the Gemini app allows you to quickly purchase any coin via your bank like Coinbase, the desktop platform forces you to use their exchange product. This is in stark contrast to Coinbase where the desktop product looks remarkably similar to the mobile app.
The inconvenience of this design on Gemini is minor and the exchange order book system isn't that hard to figure out, but it is a little strange that such simple functionality is missing. Looking further at the issue, I think it reveals something about the Gemini mission itself. They seem to view themselves as a bit more "professional". Sure, they offer a standard wallet product for you to store Bitcoin, but to me they don't want the type of customer who is going to use them to make a $50 purchase of crypto here and there. They want to attract serious crypto traders and that is why the order book is front-and-center on desktop.
You can feel the different vibe when reading headlines from the respective company homepages. Coinbase is inviting and reads:
"Buy and sell cryptocurrency – Coinbase is the easiest place to buy, sell, and manage your cryptocurrency portfolio."
On the other hand, Gemini's opening slogan has a bit more sterility:
"Security. Liquidity. Trust. Gemini is a licensed digital asset exchange and custodian. Buy, sell, and store digital assets in a regulated, secure, and compliant manner."
One platform is "easy", the other is "licensed". Is one of these approaches better? I think that's really up to the user. Keep in mind that Coinbase does offer a product that is aimed clearly at traders with their Pro product, so it isn't like Gemini is breaking new ground with a regulated professional crypto exchange based in the United States. But, while the core Coinbase product clearly wants to cater to the buyer who's making intermittent purchases while trusting a 3rd party to keep the funds safe, Gemini's offering to this same group seems like an afterthought.
All that said, there's no arguing that Gemini offers the best match to the CB feature set. If you're looking for an app that's as close to the real thing as possible, this should be your clear choice.
What's Your Favorite?
And there they are, my picks for the best Coinbase alternatives for United States users. Think I missed something? Feel free to send your thought to [email protected] or to reach out on Twitter via @postersofcrypto.
*Purchase fees are approximates based on personal experience and exchange rates at the time of this articles writing. All fees are subject to change based on the policies of linked service providers and the exchange rates of the various cryptocurrencies they offer. Keep in mind there are other fees that users may be charged including but not limited to balance transfer fees, withdrawal fees and crypto network fees. Always consult the terms and conditions of exchanges before making a purchasing decision.
Coinbase Alternative FAQs
Are there sign-up bonuses?
Yes! Coinbase offers a $10 referral credit, Abra offers a $25 referral credit, Square offers a $5 credit, and Gemini offers a $10 referral credit.
Do you have to pay taxes on cryptocurrency sales and purchases?
Yes. If you are a U.S. citizen you must record and report capital gains taxes based on your sales and purchases of cryptocurrencies via Coinbase and other alternative platforms.
Are cryptocurrency exchanges safe?
Just like a normal bank can be robbed, Coinbase or any other cryptocurrency exchange could also be hacked or lose access to your funds. Nonetheless they have a long record of safe cryptocurrency storage and are fully regulated by U.S. authorities that govern financial services.
Is Coinbase insured?
From their insurance page: Coinbase maintains commercial criminal insurance in an aggregate amount that is greater than the value of digital currency we maintain in online storage.
What coins should I buy?
To answer this question you must do your own research. Anyone online who tries to tell you exactly what cryptocurrencies are worth buying is likely only trying to advertise their own investments.
Leave us a review below!
[Total: 20 Average: 4.8/5]