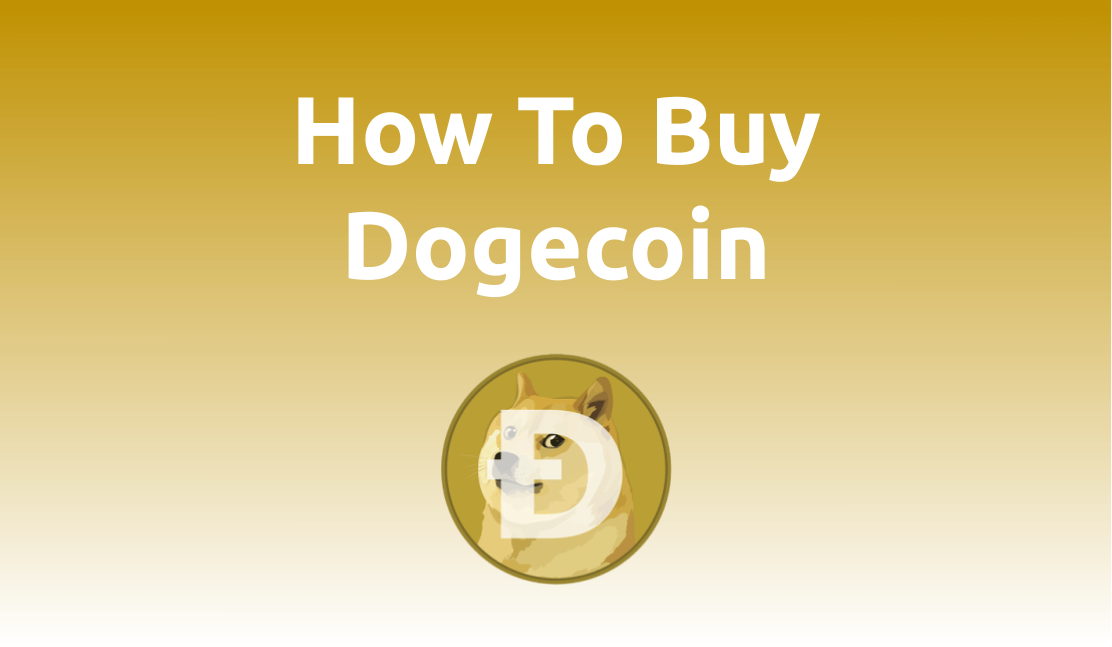 An Intro to Dogecoin
Dogecoin. It may be one of the most misunderstood and under-appreciated cryptocurrencies in existence. Commonly regarded as a joke, it has endured as a beloved and surprisingly popular altcoin for over 5 years.
You may be looking to invest in Dogecoin. Or you may be searching for a crypto with fast transactions and an established pool of users. Either way, you first need to find a way to buy it.
We'll be covering the following sections to answer all your questions about the Dogecoin purchasing process:
Please Note – I received no payment from the Dogecoin purchasing service providers featured in this blog. However, the links to their sites do contain my own personal referral links for each platform:
What is Dogecoin?
Dogecoin is a cryptocurrency that was launched in December of 2013. It was forked from Litecoin which means it shares many similar traits with that popular altcoin. The creators, Billy Markus and Jackson Palmer, based the currency on the popular "Doge" meme that features a Shiba Inu. This is the basis for the iconic Dog within the Dogecoin logo.
After it's initial launch, Dogecoin quickly caught fire amongst the cryptocurrency community. No one can say for sure exactly what it was that appealed about this new coin, but the most popular theory is simply that its "joke" nature made the coin more accessible to new users. It was based on a meme, and spread like a meme. The Google Trends graphic below shows the meteoric rise of interest in Dogecoin at the start of 2014: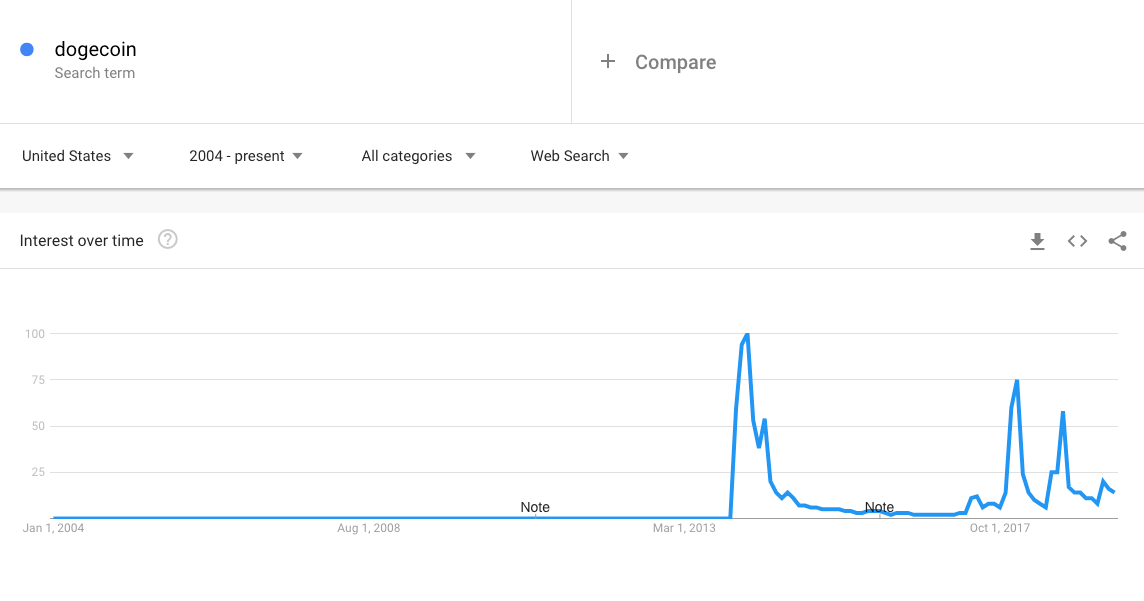 One of the biggest draws to Dogecoin was also the price. With a steady inflation rate and a supply that far exceeded Bitcoin, the price of Dogecoins came in at fractions of a cent. Simply put: who wanted to buy 1 Bitcoin for $800 when you could buy 1000 Dogecoins for $1?
Obviously there were other metrics to take into account when considering this calculation. The supply of Bitcoin? Hard capped at 21 million coins. The supply of Dogecoin? At the time of launch block rewards were happening every minute and producing up to 1 million coins per rewards. This set an expected Dogecoin supply of 50 Billion by February 2014.
Despite this glut of Dogecoin supply, the coin still gathered hype and made a memorable run from under .0003 USD to almost .002 USD (a 6x increase in price). Of course, as you can see in the graph above, that interest faded almost as fast as it rushed in. Bitcoin went through a gigantic bear market from Q2 2014 through much of 2015, and this dragged down many altcoins like Doge. The coin went through a very long price "winter". At its worst, it dipped below .0001 USD.
One would think such a brutal bear market would kill a coin. And it did kill many altcoins that were born around the same time. But Dogecoin, backed by an enthusiastic and optimistic community, was resilient. Today, the coin has recovered and sits above that original bubble peak of .002 USD (.0035 at time of writing):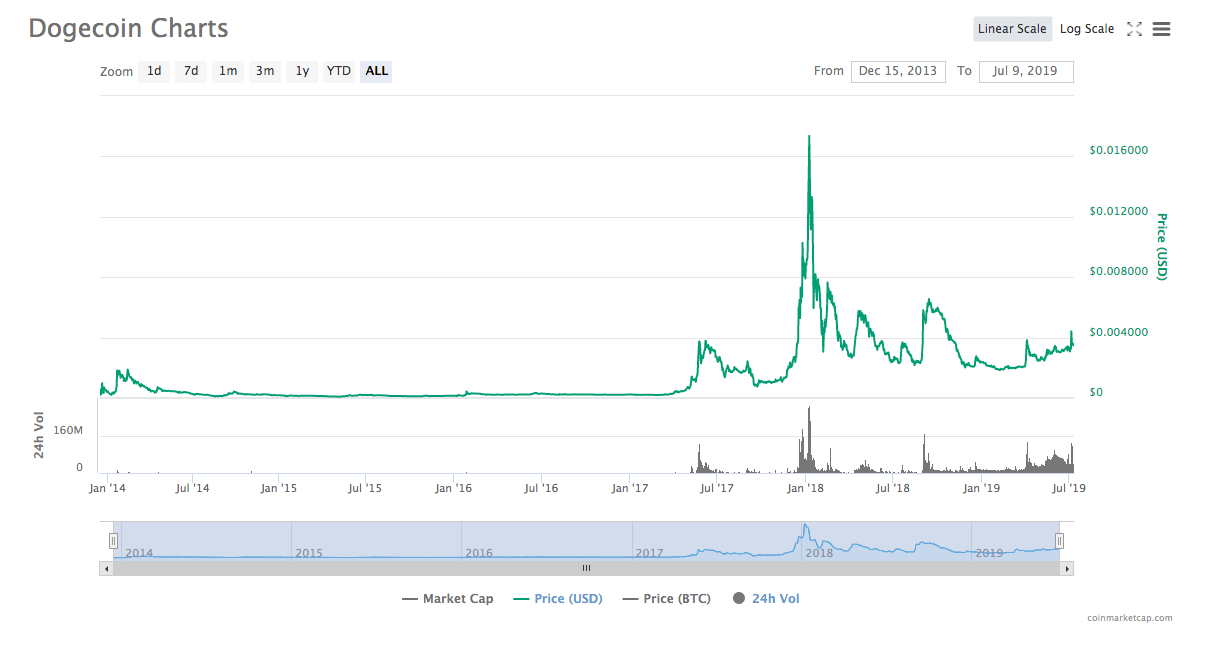 Why Buy Dogecoin?
Note: All information contained in this article is not investment advice. This content is for informational purposes only, you should not construe any such information or other material as legal, tax, investment, financial, or other advice.
So why would someone want to buy Dogecoin? There are a number of reasons:
Investing: As you can see from the price graph above, holding Dogecoin has paid off handsomely for investors that purchased their coins prior to 2017. Current Dogecoin buyers are hoping for similar returns.
Widespread Usage: Despite the fact that many outsiders consider Dogecoin to be a "joke" cryptocurrency, it has a remarkable amount of traction when it comes to real-life usage. The Dogecoin blockchain is consistently ranked amongst the top networks for transactions per day.
User Friendly: Thanks to its long history, there are a large number of Dogecoin wallets that you can rely on for both Desktop and Mobile. There are also excellent online communities like the /r/Dogecoin subreddit to help new users learn the ropes
Low Transaction Costs: Dogecoin transactions are, in general, extremely fast and cheap. The average transaction fee for Dogecoin so far in 2019 is around half a cent. For Bitcoin? That number has been closer to $2.
Fun: Dogecoin was always meant to be a currency that wasn't taken seriously and that original mission is still at play today. If you're put off by the "serious" nature of many of the other cryptocurrencies, the lighthearted Doge may be what you are looking for.
Method 1 – Buy Dogecoin Directly w/ Robinhood
Pros:
Referral bonus for signing up
No trading fees
Cons:
For investing only – you cannot deposit or withdraw Dogecoin
Robinhood is one of the easiest and most secure ways to buy Dogecoin. The Robinhood app is primarily for trading stocks, but crypto trading was added as a feature in February of 2018. Here's how to buy Dogecoin with Robinhood:
1. Download the app and set up an account:
Setting up your account is very simple and done via their app. You will need to provide them your personal contact information, bank account information to fund your account, and a Social Security number.
This may sound like a lot of personal information, but it is needed due to stringent regulations they must comply with as an investing platform. If you don't mind providing this information, fill out the forms, connect your bank account, and you're good to start investing in crypto.
Once your account is funded, buying Dogecoin (or any other crypto) is remarkably simple:
2. Navigate to the dedicated page for Dogecoin: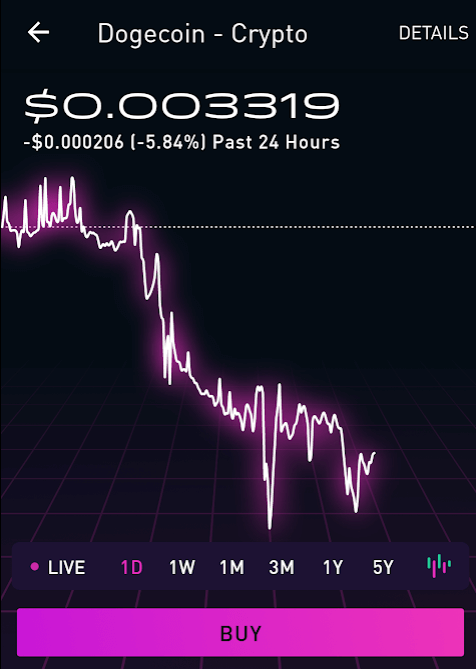 3. Enter how much you want to buy: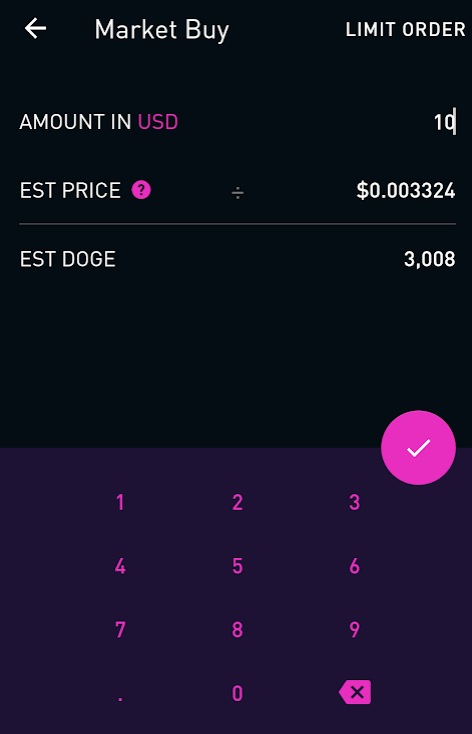 4. Confirm your order: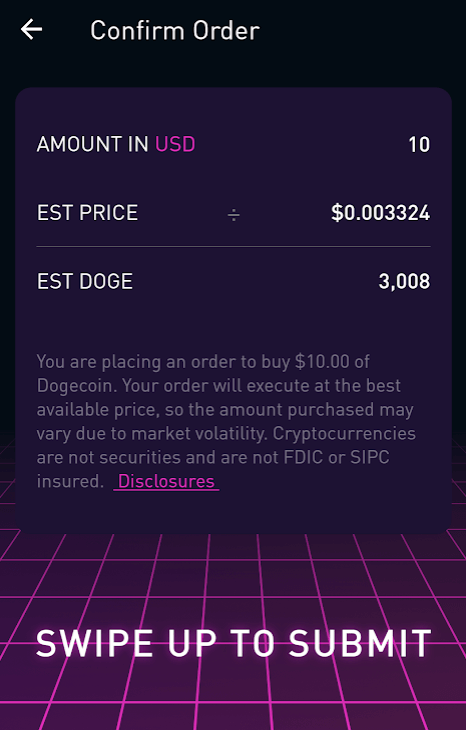 5. Enjoy your purchase: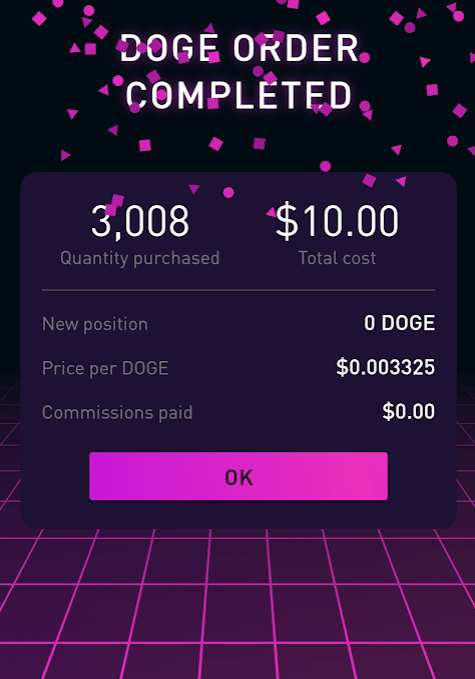 From here you will be able to check up on your Dogecoin investment at all times via the Robinhood app. On top of being easy to use, you also have the benefit of paying 0 commissions to Robinhood. It's hard to beat no-fee trading.
So what's the catch? Unfortunately, you cannot deposit or withdraw cryptocurrencies from your Robinhood account. Robinhood's statement on the matter is that "At this time we don't support coin withdrawals, though we plan to do so in the future." This means that if you want to do anything with Dogecoin beyond simply investing, you will need to choose a different method within this article.
Only looking to invest? Then Robinhood will likely be your best bet. And, as an incentive, Robinhood offers free stocks to new users that sign up up via an invitation from existing users. You can get this offer and begin investing in Dogecoin by using my referral link below.
Method 2 – Buy Dogecoin Directly w/ Abra
Pros:
Cons:
For investing only – you cannot deposit or withdraw Dogecoin
Abra is another platform for buying Dogecoin that is only available via an app. Abra was founded in 2014 Bill Barhydt, a former software engineer for Goldman Sachs. Their mission statement is as follows:
Abra operates an easy to use app — with 30 cryptocurrencies, 50 fiat currencies, and the BIT10 crypto index available. Users can buy, sell, store, and invest in cryptocurrencies, plus manage all crypto investments, in one place. Our vision is an open, global financial system that is easily accessible to everyone.
If you're looking for a reliable, simple-to-use platform to purchase Dogecoin, Abra is an excellent option. Here is the process for purchasing via Abra:
1. Download the app & set up your account
After downloading their app, you will need to enter your name, country and phone number information. This will allow you to receive a code text messaged phone. With this code, you can then proceed to create an account pin, and to generate your unique recovery phase. Save this phrase somewhere secure. It represents the private keys to your account and it is the only way to restore your funds should something happen to your phone.
2. Fund your account
After setting up your account you will then need to add money to your account. To do this you will:
Open your Abra app, to your portfolio view.
Tap: 'Add Money' (now located at the bottom of your screen).
Use this guide and one of the following methods to deposit funds:

US bank deposit
Credit card or debit card
SEPA/Coinify
Teller deposit
AMEX deposit
BTC deposit
LTC deposit
ETH deposit
3. Exchange funds for Dogecoin
Once the funds are added, you will be able to exchange them to Dogecoin via the app. The video below walks through the process of exchanging via Abra:
You will have to pay some fees when you purchase Dogecoin on Abra, but these fees are usually only around 0.5%-1%. Also you should know that, like Robinhood, with Abra you can only invest in Dogecoin. You cannot deposit or withdraw coins to a personal wallet.
Please keep in mind that Abra is a non-custodial wallet. What does this mean? Abra says:
Abra's user assets all live in user-controlled addresses on the Bitcoin or Litecoin blockchains, enabling transparency, liquidity, and security..Since Abra's wallet is blockchain-based, a user must control his or her private keys, which requires a level of personal responsibility that more closely resembles a cash-based system, rather than a bank-based system.
This is key. If you lose the private keys that Abra gives you upon sign up, you lose the money in your account. It allows for more privacy and security than a custodial wallet (one where the exchange controls your private keys for you), but it is essential that you understand the importance of personal responsibility with an Abra account.
Ready to take the plunge and buy Dogecoin with Abra? You can use my referral link below.
Method 3 – Use a Cryptocurrency Exchange
Pros:
Fees are usually low
You can deposit and withdraw actual Dogecoin
Cons:
Most complex method for purchasing Dogecoin
This method opens up a ton of different possibilities for exactly how you will go about purchasing Dogecoin. This is because there are so many different cryptocurrency exchanges that you can choose from. CoinMarketCap lists 50+ unique exchanges that feature Dogecoin trading pairs and that number is likely to only increase as the industry matures.
While cryptocurrency exchanges may seem intimidating to use at first, they are actually fairly intuitive once you get started. Furthermore, if you want to expand your knowledge and access to altcoins, using them is essential. Finally, cryptocurrency exchanges are unique compared to the easier options listed here in that they allow you to withdraw and deposit your coins. If you actually want to use the Dogecoins you are purchasing or store them with a wallet that you control, using an exchange will be your best option.
So how do we use an exchange? Your first step will be choosing exactly which one you want to create an account with. As I mentioned previously, CoinMarketCap has a full list of popular exchanges that feature Doge trading. I suggest using that as a starting point and investigating which individual exchange makes the most sense for your situation.
My personal top 3 from that list would be:
This is based on my personal levels of trust I have in these exchanges. Please keep in mind that many cryptocurrency exchanges are unregulated. This puts you at risk in the situation that an exchange is hacked and loses your funds, or that the exchange itself closes up shop overnight and runs off with your money. If I had to make the choice, I would say that these three exchanges are the least likely to run away with your funds or be hacked. But please understand that this is my personal opinion and not investment advice. There is always risk of losing your investment when dealing with cryptocurrency exchanges so please do your research and practice safe investing.
For this example I will be specifically walking through the purchasing process on Binance, but the steps outlined here will be the same across most popular cryptocurrency exchanges:
1. Create an account: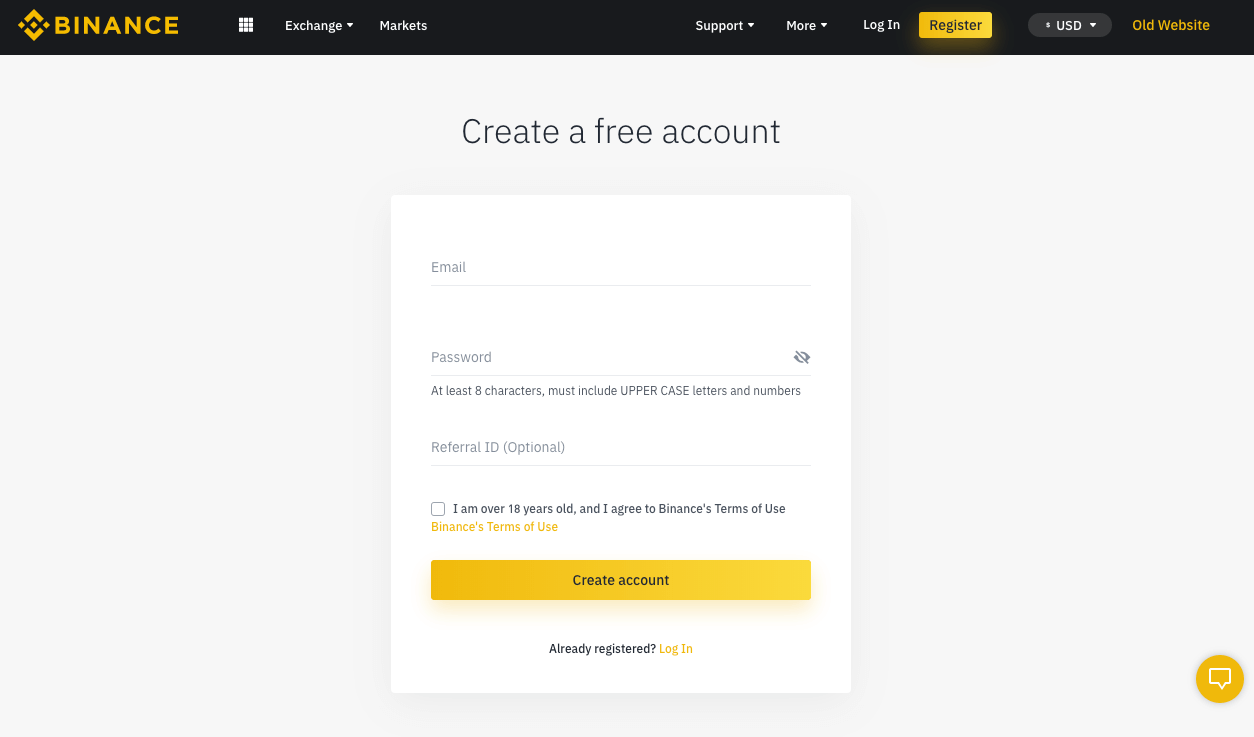 The details of this process will vary from exchange to exchange, but in general you will be required to submit at the very least an email and a password, then confirm your access to the email. Other exchanges will require you to take further steps like uploading a government issued identification document to comply with KYC (Know Your Customer) laws. While you may balk at giving a crypto exchange your personal information, I'll say that a general rule you can lean on is: the less an exchange asks of you in terms of personal information, the less you should expect from them in terms of service. An exchange that is taking the time to ask for KYC information is usually not planning to run off with customer funds. But, again, it's up to you to evaluate the risks and make the best decision you can.
Note #1: When you sign up to any cryptocurrency exchange, please be sure to choose a strong password and enable 2 Factor Authentication on your account (use Google Authenticator if possible, do not rely on 2FA via a phone number). This will protect your account from being hacked.
2. Fund your account:
Once your account has been created you will need to fund it. The easiest way to do this will almost always be to purchase Bitcoin elsewhere, then send it to your individual exchange Bitcoin wallet address. The reason for this is because Dogecoin is usually traded as a BTC priced pair. That is, the Dogecoin exchange process is priced against Bitcoin instead of against the US dollar or a similar fiat currency. Because of this you will likely need Bitcoin to trade to Dogecoin.
If you need to purchase Bitcoin to fund your account, I recommend Coinbase or one of the popular Coinbase Alternatives like Abra, CashApp, or Gemini.
Note #1: Be careful to ensure that the exchange you are using is, indeed, utilizing a DOGE/BTC trading pair. There are some exchanges that instead utilize Ethereum pairs, or pairs utilizing stablecoins like USD Tether. In those cases, you will either need to fund directly with the DOGE pair's counterpart, or deposit Bitcoin, convert to the counterpart on the exchange, then finally trade for Dogecoin.
Note #2: Some exchanges will allow you to fund your account directly via a bank account (Kraken does this) or via Credit Card (see the offer in the Binance screenshot below). In general, if you can fund via a bank account, this will be the cheapest option for purchasing Dogecoin on an exchange. This is because it cuts out crypto transaction fees of having to send Bitcoin, Ethereum, or something else to fund your exchange wallet. The trade off? Generally any exchange that allows attaching a bank account will have very strict KYC. So be prepared to upload a Government ID.
After being certain that you will be utilizing Bitcoin to trade for Dogecoin on the exchange, you will go to your account's deposit page. It should list a Bitcoin address:
You will need to copy this address and use a Bitcoin wallet to send however much in BTC that you want to convert to Dogecoin. After your transaction is confirmed by the Bitcoin network, your balance should update: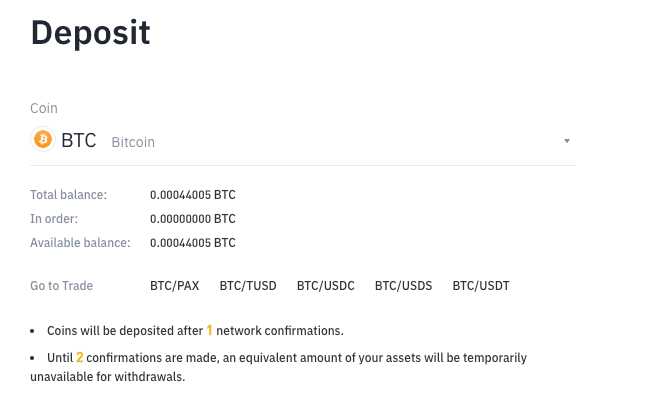 3. Make the trade:
You'll now navigate to the trading portion of the cryptocurrency exchange. Usually there will be a search box you can use to find the market you want to trade on. On Binance, I've searched "doge" and instantly found the DOGE/BTC market I was looking for:

After clicking on the market, you will be taken to a trading page: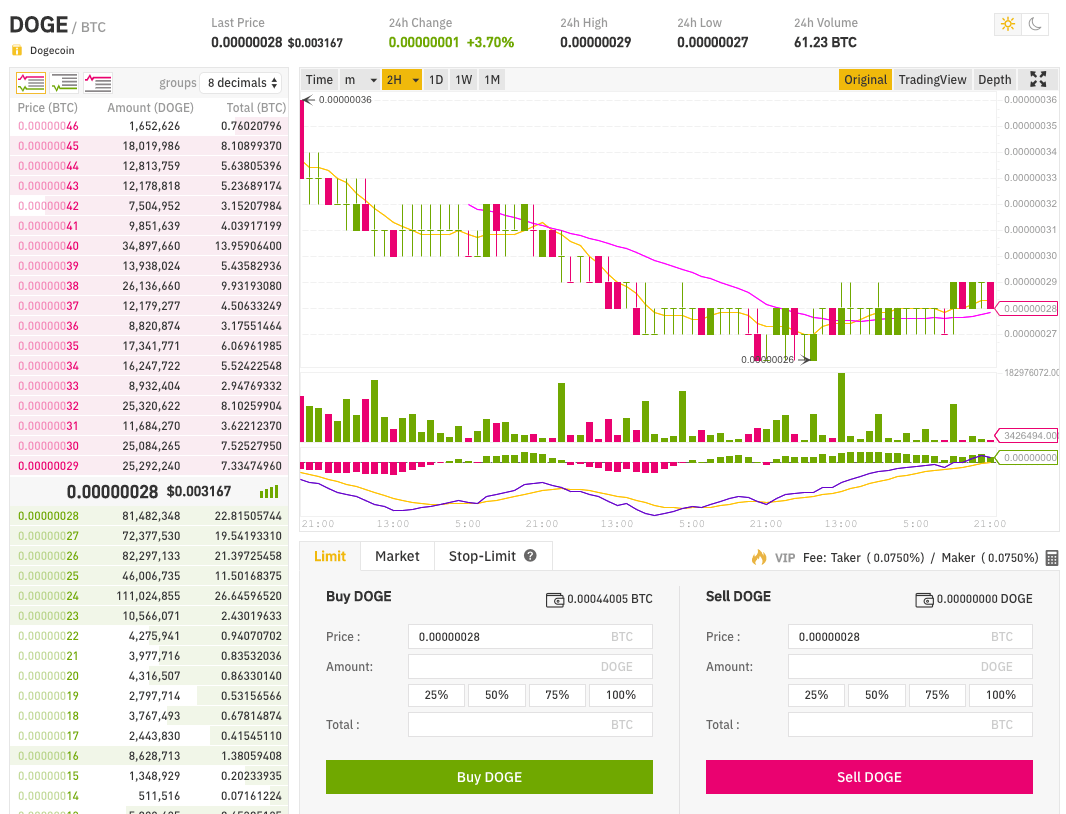 This is where you will make your final purchase. Again, different cryptocurrency exchanges will have different layouts, but in general the example you see here from Binance will be similar to what you find on most other exchanges. There will be a large graphic showing price history over time (top), a widget for buying Doge (bottom left), a widget for selling Doge (bottom right), and an order book (left sidebar).
The most important feature you'll want to look at is the order book on the left. This shows all of the existing buy and sell orders for Dogecoin that are on the exchange. Reading this can become a bit complex, so I recommend this article if you want a full breakdown. If you want to become a great trader of crypto, you will definitely want to spend some time learning all about order books and placing what are called "Limit Orders" for purchasing coins. These are orders where you place a bid for a coin at a certain price that you expect the coin to hit in the future. You aren't guaranteed that you will buy the coin at that price, but if you bid well, you may be able to get a bargain. It's easy to get off track on the actual trading topic so I'll leave it at this: trading is an advanced skill and not recommended for beginners. If you want to learn, I recommend this study guide. If you don't want to take the time to learn, I recommend sticking to the steps outlined below.
If you want to take the straightforward path and buy Dogecoin as quickly as possible, you will simply want to create a Limit Order that is priced based on the lowest sell price on the exchange: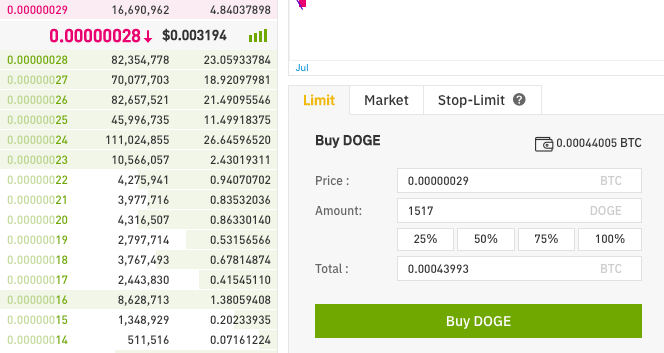 As we can see from the orderbook, the lowest current sell for Doge is .00000029. At that price, there is 16,690 Doge for sale. While the last price for Doge was .00000028, the orderbook shows us that there is no longer any Doge for sale at that price (for now). To ensure that our purchase happens as quickly as possible, we set our price to .00000029 because we know that there is already Doge for sale at that price. Next we select how much BTC we want to spend (in this case, as much as possible), and then hit "Buy Doge".
Note: This is by far the easiest place to make a horrible mistake when trading. One "0" in the wrong place could cause you to purchase far more Doge at a far higher BTC price than you intended to. If this happens there is no guarantee you will get your money back. Double check and triple check that you are entering the correct order before moving forward.
If you entered all your information correctly, you should see a confirmation that your order has executed. Go back to the "wallet" portion of the exchange and you should now see that you are the proud owner of your very own Dogecoins:

4. Withdraw to a wallet:
This next step is not essential, but it is highly recommended if you would like have complete control of your own coins: withdraw them from the exchange! I have covered the risks involved with cryptocurrency exchanges already in this article and these risks are the reason why any seasoned crypto user will tell you to NEVER trust an exchange to store your coins for you. The popular saying is "not your keys, not your coins" and, trust me, you do not want to learn this lesson the hard way. If you have the ability to withdraw your coins I believe you should make the best effort you can to do so every time.
There are a number of Dogecoin wallets you can choose from (the main website lists a few), but I personally recommend the Coinomi wallet for small amounts of Dogecoin. For large amounts, I recommend a hardware wallet like a Trezor.
No matter what wallet you settle on, the process will be the same from here on out. Your wallet will provide you with a "receive" address. You will take this address, navigate to your exchange's "Withdraw" page, and select how much Doge you want to withdraw. Double check and triple check that you put in the correct address, then go ahead and hit "submit":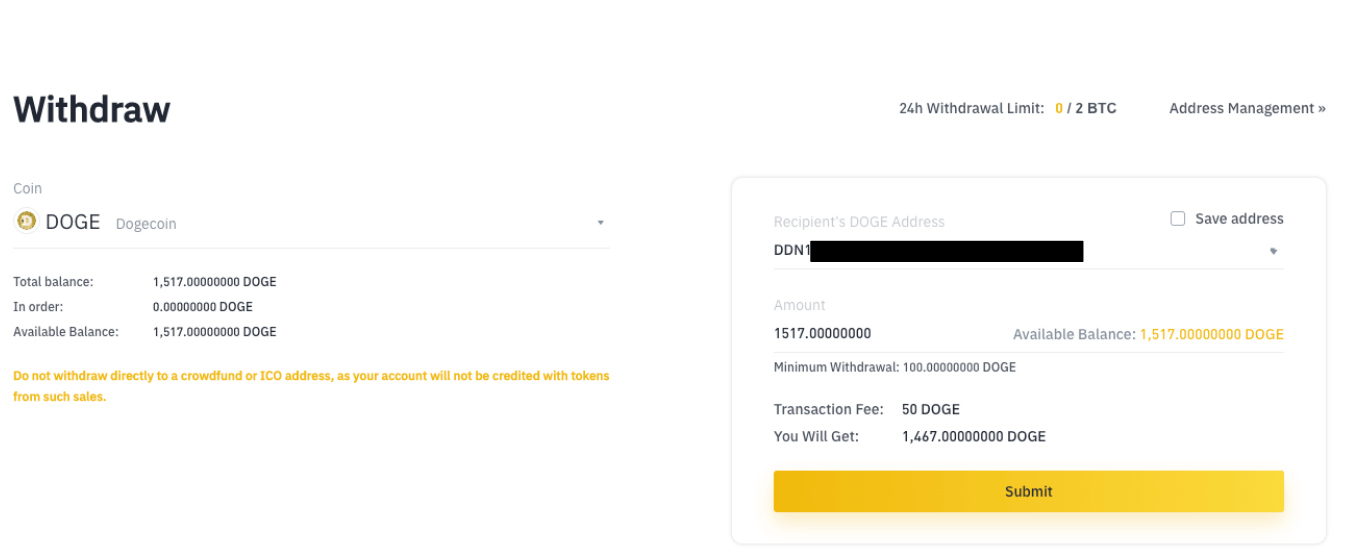 You will likely need to do some sort of confirmation even after this submission, in Binance's case it's an email. Follow the instructions from your exchange provider to ensure that the withdrawal is properly processed: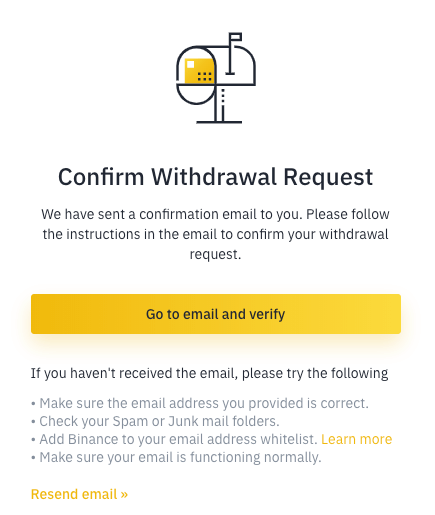 If all goes correctly, you should be able to confirm the withdrawal and you will see the transaction appear under your exchange's transaction history:

From here you are waiting for the exchange to process the transaction. This time will vary greatly from exchange to exchange and even from coin to coin, so be sure to check their terms and conditions or reach out to the support team if you are in dire need of the withdrawal being processed by a certain time. Support teams can't make special requests happen for you, but they can let you know if there are issues happening with withdrawals at any given moment. There is nothing worse than getting your purchase made in time only to miss out on whatever you needed the coins for due to transaction times.
The good news for us is that we're dealing with Dogecoin. As we covered earlier, Doge happens to have some of the fastest transaction times of any coin. Six minutes after hitting the withdrawal button, my coins were confirmed in my private wallet: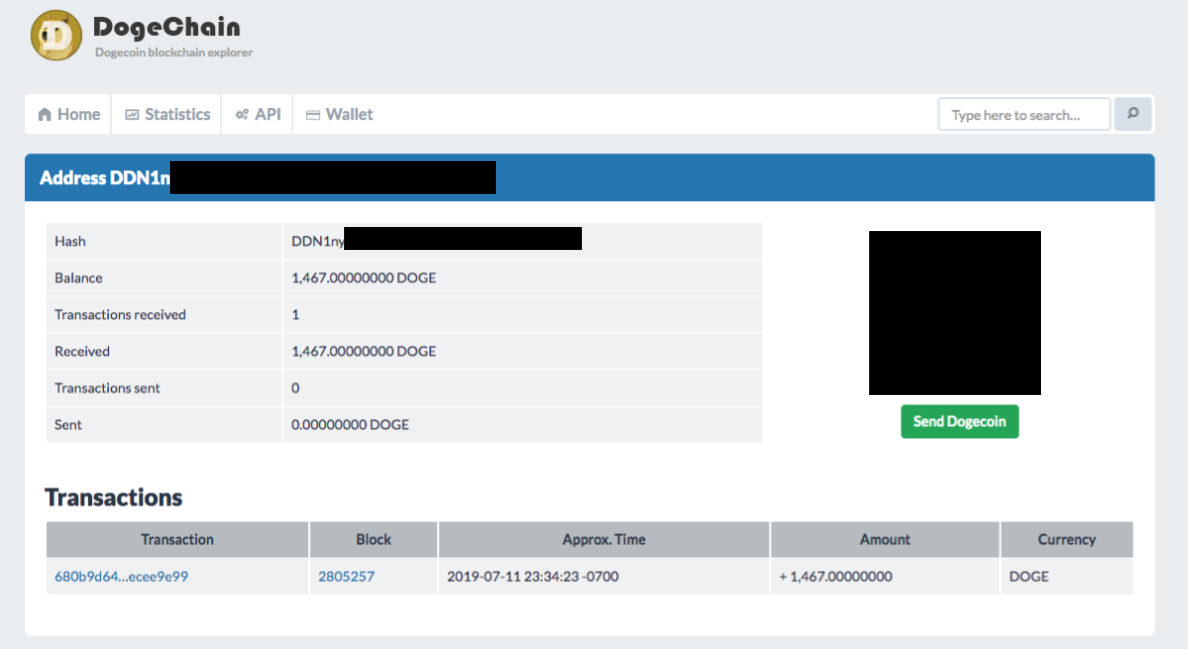 Once a withdrawal is confirmed on the Dogecoin blockchain, you're ready to use your coins as you see fit! I like to use DogeChain.com to check the status of my transactions.
Enjoy Your Dogecoin!
And there it is, my picks for how to buy Dogecoin. Think I missed something? Feel free to send your thought to [email protected] or to reach out on Twitter via @postersofcrypto. Trying to use your coins? Buy some Dogecoin merchandise at our online shop today! You can even pay with Doge and receive 10% off with your purchase.
Note: Fee estimates in this article are approximates based on personal experience and exchange rates at the time of this articles writing. All fees are subject to change based on the policies of linked service providers and the exchange rates of the various cryptocurrencies they offer. Keep in mind there are other fees that users may be charged including but not limited to balance transfer fees, withdrawal fees and crypto network fees. Always consult the terms and conditions of exchanges before making a purchasing decision.