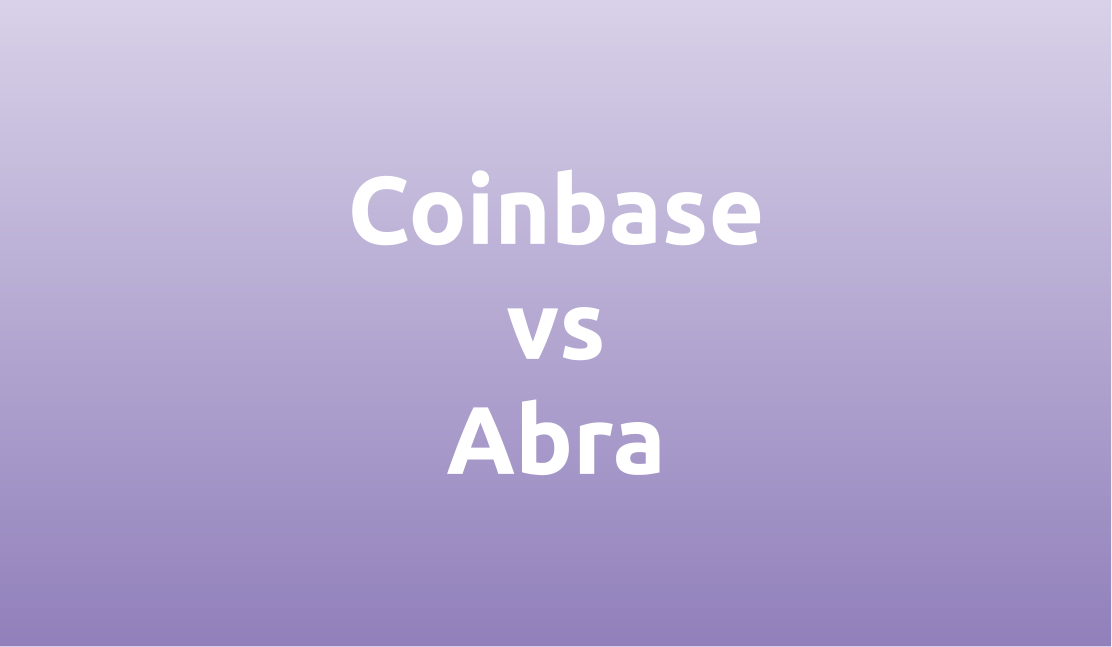 For crypto users around the world, Coinbase is widely recognized as the go-to platform for buying and selling Bitcoin and Altcoins. However, as the industry has developed, more and more Coinbase alternatives have popped up as well. One of the more interesting competitors to hit the scene is Abra.
Abra was founded in 2014 Bill Barhydt, a former software engineer for Goldman Sachs. Their mission statement is as follows:
Abra operates an easy to use app — with 30 cryptocurrencies, 50 fiat currencies, and the BIT10 crypto index available. Users can buy, sell, store, and invest in cryptocurrencies, plus manage all crypto investments, in one place. Our vision is an open, global financial system that is easily accessible to everyone.
If you're looking for a simple-to-use platform that closely matches Coinbase's selection of cryptocurrencies, Abra is an excellent option. They actually far exceed the altcoin selection of Coinbase with the ability to invest in 30 different cryptos via the same app. Read on to see our full comparison and to find the best option to fit your needs:
Abra vs Coinbase Breakdown
Here is the quick Abra vs Coinbase comparison:
| | | |
| --- | --- | --- |
| Features | Abra | Coinbase |
| Buy Bitcoin | Yes | Yes |
| Withdraw Bitcoin | Yes | Yes |
| Deposit Bitcoin | Yes | Yes |
| Sell Bitcoin | Yes | Yes |
| Buy Altcoins | Yes | Yes |
| Withdraw Altcoins | Some | Yes |
| Deposit Altcoins | Some | Yes |
| Sell Altcoins | Yes | Yes |
| Approximate Purchase Fees* | ~0.5-1% | ~4% |
| Excluded U.S. States | None | Hawaii |
| Sign-Up Reward | $0 | $10 |
The Case For Abra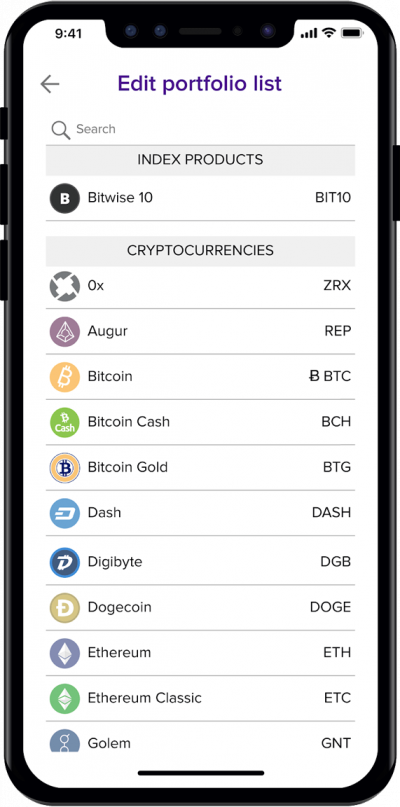 The highlights from the Coinbase / Abra comparison above are two-fold. First, the attractively low purchasing fees. Abra is proud to advertise that "you can buy cryptocurrencies with some of the most competitive rates in the market."
The official statement from Abra is that: "We don't currently charge fees on currency exchanges, but Abra does generate exchange rate income on the spread between different currencies, which goes to cover our costs and generate a small profit for Abra. For instance, if you convert US Dollars to Bitcoin, or Ethereum to Ripple, there will be a small spread built into the exchange rate that you see on the app."
NOTE: The Abra sign up reward below is no longer active. We expect a new sign up reward to be implemented eventually, but currently you will receive no bonus for signing up with Abra.
Another highlight is their sign-up reward. It's simply the best in the business. Coinbase offers you $10 only if you sign up with a referral and buy or sell at least $100 of crypto. On the other hand, Abra gives you $25 in Bitcoin once you sign up with a referral and deposit $5 (or more) using a US bank account, or eligible American Express card. This is quite generous and shows that Abra is serious about attracting new users to try their platform.
As well as providing reasonable rates on crypto purchases and a great sign-up bonus, Abra offers direct purchase of the following cryptos to app users:
Bitcoin
Ethereum
XRP
Bitcoin Cash
Litecoin
Dash
Ethereum Classic
ZCash
OmiseGo
Qtum
Dogecoin
Golem
Vertcoin
BitcoinGold
Stellar
DigitByte
Augur
Status
Stratis
0x
Monero
NEM
NEO
Lisk
Verge
BAT
Cardano
Tron
EOS
Siacoin
While this selection is impressive, it does come with caveats. You are allowed to invest in these cryptocurrencies with Abra, but users cannot actually withdraw or deposit them via personal cryptocurrency wallets. Abra only supports deposits and withdrawals of so-called "native coins". These are Bitcoin, Bitcoin Cash, Ethereum and Litecoin. Despite these limitations, Abra seems obsessed with pushing the limits of what they can offer and is continuing to innovate. There is also an indice product to purchase a basket of 10 cryptos and they recently rolled out stock and ETF investing backed by Bitcoin.
The final note you should understand regarding Abra is that it is a non-custodial wallet. What does this mean? Abra says:
Abra's user assets all live in user-controlled addresses on the Bitcoin or Litecoin blockchains, enabling transparency, liquidity, and security..Since Abra's wallet is blockchain-based, a user must control his or her private keys, which requires a level of personal responsibility that more closely resembles a cash-based system, rather than a bank-based system.
This is key. If you lose the private keys that Abra gives you upon sign up, you lose the money in your account. It allows for more privacy and security than a custodial wallet (one where the exchange controls your private keys for you), but it is essential that you understand the importance of personal responsibility with an Abra account.
Setting Up Abra
You can only set up an Abra account via their mobile app (available for both iPhone and Android). You will need to enter name, country and phone number information. This will allow you to receive a code text messaged phone. With this code, you can then proceed to create an account pin, and to generate your unique recovery phase. Save this phrase somewhere secure. It represents the private keys to your account and it is the only way to restore your funds should something happen to your phone. After this process is completed you will be able to add money to your account via Bank Transfer, Credit Cards, or by depositing crypto.
The Case for Coinbase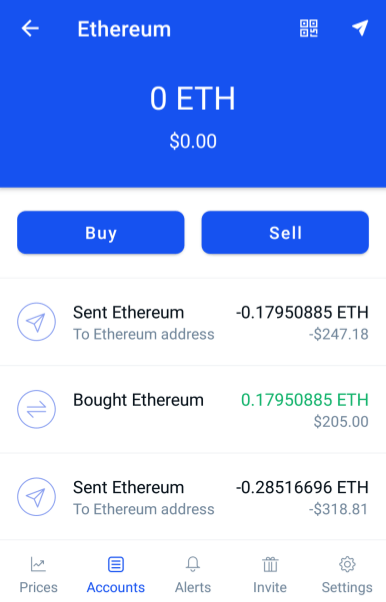 Now, if you're not keen on having to keep track of private code to recover your account, Coinbase is likely the best choice of these two options. Coinbase is a custodial wallet service which means that they keep track of the private keys to your crypto for you. While this means you have to trust them to not be hacked, it also protects you if you lose access to your phone or Coinbase password. You can simply reach out to their team to get access to your account again.
Buying and selling is a simple process with both their mobile app and desktop website. They even have a training section that allows new users to earn free crypto by competing learning exercises.
Along with allowing you to buy and sell coins, they are one of the world's top wallet providers. This is a big difference compared to Abra where, while you can invest in many different altcoins, you are not able to send and receive all of them via the wallet. On Coinbase, you can store, send, and receive:
Bitcoin
0x
BAT
Bitcoin Cash
Ethereum
Ethereum Classic
Litecoin
USDC
XRP
ZCash
On top of this you receive access to their enterprise trading platform Coinbase Pro. There's a learning curve, but if you want to get in on the swings of cryptocurrency price action you'll find dramatically lower fees then trying to trade via their retail product.
Setting Up Coinbase
You can set up a Coinbase account on both their desktop platform or on mobile via their app. While you won't need to give up your Social Security number, you will need to provide a phone number and identification documents like a driver's license or a passport. There are options to create an account without giving up much personal information, but if you do so you will likely have very low purchase limits. This is because Coinbase restricts new accounts to prevent money laundering. Basically, the more information you can provide, the higher your purchase limits will be. Coinbase is also known to increase limits based on the age of your account and activity level.
Coinbase does offer an incentive when you sign up via an invitation. If you use my referral link below, you will receive $10 of Bitcoin when you sign up and buy or sell $100 of bitcoin or more.
Abra vs Coinbase Summary
The key points to keep in mind when comparing Coinbase vs Abra:
Coinbase offers desktop and mobile access. Abra is only available via an app.
Coinbase is a custodial service. Abra is non-custodial by design.
Coinbase offers a $10 bitcoin referral bonus. Abra offers no bonus.
We hope you've enjoyed this breakdown of Abra vs Coinbase and that it helps you find the perfect platform for your cryptocurrency needs. If you have any questions, please feel free to reach out to us via [email protected] or @postersofcrypto on Twitter.