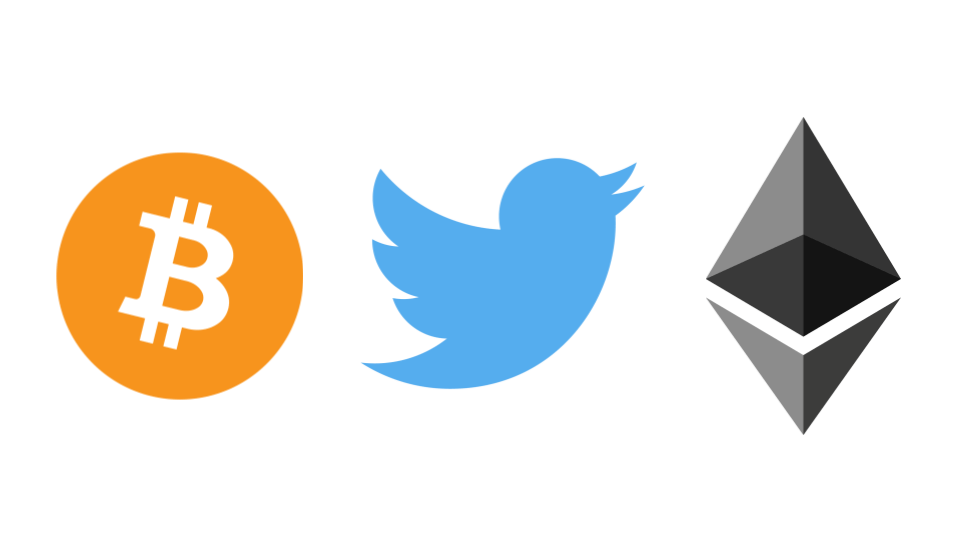 Crypto twitter is one of the most dynamic and engaging online communities you can find. It's full of enlightening discussions of (possibly) the most important economic breakthrough of the 21st century. It's also filled with frauds, shills, and shitposters. Searching for signal in this noise can be tough, but if you're willing to put in the time you can build a great list of the best crypto Twitter accounts to follow.
Not willing to put in that time? We've got you covered with our comprehensive list of 100 essential crypto accounts on Twitter that you should be following:
100 Best Crypto Twitter Accounts
The OGs
These are all accounts that have been active since long before the 2017 crypto bubble. These people have already made their fortune and it comes through in their tweets. Often accused of being "lucky" despite the fact that they were smart enough to trade from 2014-2015 when everyone else thought crypto was dead. Priceless wisdom to be had by following them, but they won't make it easy for you to find. All funny, some with darker humor than others.
The founder of Crypto Twitter.
Follow for intelligent discussion of high-level trading concepts and timely retweets of the Chicago police scanner.
The most prolific Twitter user of all the OGs. Creator of the Loomlines technical indicator.
A (Russian?) duck that likes to do drugs and tweet about Bitcoin.
Active trader, great follow for tips on lesser-known coins.
Will help you stay ahead of the curve on potential new opportunities. First person on this list that talked about CryptoPunks.
She may just be the most legendary crypto trader of all time.
Consistently ridiculous. Side gig as an investigative journalist and broke the COVID-19 story from inside China in late January 2020.
One of the most well-respected accounts. Comments on the entire community.
Called the top of the 2017 bubble perfectly. Called the start of the NFT bubble of 2021 perfectly. A savant.
The Captains of Industry
These people head up some of the most important businesses and organizations in the cryptocurrency space. Generally a bit more "professional" than other crypto twitter accounts.
Co-founder and CEO of BitMEX. Currently on the run from the Feds, but still pumping out quality insights via his blog.
The twins that got outsmarted by Zuckerberg  on Facebook, then went all in on crypto instead. Founders of the exchange Gemini.
Co-founder of Lightning labs which many community members believe is pioneering the best way forward for Bitcoin's scaling issues.
Co-founder and CEO of Coinbase, the #1 on-ramp to cryptocurrency for US citizens.
Early Bitcoin investor. Influential within a number of companies via his firm DigitalCurrencyGroup.
Billionaire founder of the exchange FTX. Quite possibly the most important person in crypto.
CEO at Binance, the world's #1 exchange by volume for cryptocurrency trading.
Early investor and outspoken Bitcoin supporter. CEO at crypto-to-crypto exchange ShapeShift.io.
CEO of Twitter and Square and an outspoken Bitcoin supporter.
Communications director for Coin Center, the cryptocurrency policy think tank. Quite possibly the most powerful voice for crypto in Washington D.C.
The Devs
All of the accounts listed here have experience maintaining the actual code that drives some of the world's most popular cryptocurrencies. Good resources for filtering out the BS that is spouted by much of crypto twitter. Will be the first to call out dumb ideas that aren't technically feasible.
Inventor of the Uniswap protocol. Uniswap was one of the first DeFi protocols to gain widespread acclaim and adoption.
Original developer behind Litecoin, one of the earliest and most popular "altcoins" to Bitcoin.
Core developer for privacy coin Monero. Streetwear aficionado.
Cryptographer who invented the Hashcash protocol. Hashcash was cited in the Bitcoin white-paper by Satoshi Nakamoto as an influence for the proof-of-work algorithm that powers bitcoin.
Lead developer of Ethereum. Outgoing. Active Twitter feed full of casual and technical discussion surrounding Ethereum and many other projects in the space.
CEO of IOHK and founder of Cardano and Ethereum* (co-founder*). Make sure you know that or he may yell at you.
Founder and developer of privacy-focused altcoin Zcash.
Early Bitcoin core contributor. #21 all time on GitHub in terms of total commits to Core's GitHub repo. Strong opinions on crypto and tech in general.
Another long-time Bitcoin Core contributor. #10 all time on GitHub. Critical commentary on Bitcoin and, sporadically, traditional Roman Catholicism.
Co-founder of Solana, one of the most promising up-and-coming L1 blockchains.
The Content Creators
There's no shortage of crypto-related content in the form of videos, articles, podcasts, and more. A lot of it is trash. These accounts are reliable sources for high-quality content that will actually help you learn.
Co-host of UpOnly with Crypto Cobain. Wholesome unassuming dude from Alabama who probably outtrades 95% of crypto Twitter.
Quite possibly the only respectable crypto YouTuber.
Founder of The Daily Gwei and Ethereum roadmap enthusiast. If you're going to follow one person for Ethereum news, this would be our choice.
Reporter for CoinDesk. One of the few journalists you will find that actually puts effort into mastering the space.
Technical Editor for Bitcoin Magazine. An absolute must follow if you want to understand the mechanics of Bitcoin and other cryptocurrencies. Quite possibly the industry's best writer in general.
The most prolific producer of content with the purpose of making Bitcoin and other cryptocurrencies accessible to the masses.
The #1 public expert when it comes to United States cryptocurrency tax law. Insightful and always open to questions.
There is no-one putting out more consistent, detailed, high-level research on cryptocurrencies. The content arm of the BitMEX exchange.
They don't post much, but when they do, you should listen.
Host of the What Bitcoin Did Bitcoin podcast.
The Best Crypto Traders
A lot of people are into cryptocurrencies because they want to get rich. These guys are doing it better than most. Plenty of posts on technical price analysis of different coins and they are usually open to answering questions (if you ask nicely). Remember though, this is not investment advice. Most of these people have cartoon characters for AVIs. Imagine explaining to your wife that you lost the kid's college fund because you made your investment decisions based on a cartoon Jalapeno from Twitter.
Borrow their knowledge, these people are smart. But make your own decisions.
He don't miss.
He's produced a bounty of free technical analysis content. Brutally honest. Grammar snob.
CEO + crypto quant trader for Alameda Research, one of the industry's top VC firms.
A pepper drinking a margarita that is extremely active and constantly posting charts. Conducts trading live streams on Twitch.
Margin trader extraordinaire.
Consistent producer of educational content and commentary about gibbons.
A prolific shitposter. Sometimes produces an insightful chart as well.
Co-founders of Three Arrows Capital. If you're lazy, tail their investments and you'll probably outperform most traders.
Extremely disciplined and focused trader. Feed can sometimes seem a little boring since he is so focused on price action.
Prolific trader. Also a Blockchain thought leader.
Note: There are a lot of crypto trader accounts on Twitter that will try to get you to pay for access to their "exclusive private trading group". 95% of these accounts are frauds trying to take advantage of gullible newbies. All of the useful technical analysis you need to succeed in the cryptocurrency space is available for free if you are willing to hunt for it. Don't get scammed.
The Feds
Former Chairman of the United States Commodity Futures Trading Commission. Self-described "CryptoDad".
Wyoming Senator. The first known member of the Senate to own bitcoin.
SEC commissioner. Earned the moniker "crypto mom" for her embrace of the industry.
The Haters
There is never a shortage of talking heads predicting the death of cryptocurrencies. If the price of bitcoins is falling, these Twitter accounts won't miss a chance to gloat:
The Buc Nasty of hating Bitcoin.
The go-to economist for New York Times op-eds that hate on cryptocurrency.
The OG Bitcoin hater.
Gold bug that hates anyone who entertains the thought that Bitcoin could be a considered a gold alternative.
Another gold bug that tweets about Bitcoin more than his favorite commodity.
The Real MVPs
These accounts don't fall into any neat category, but all deserve a follow if you want to diversify your crypto twitter feed. Good mix of experienced users and newer accounts with high-quality, informative content.
A better investor than 99.9% of crypto Twitter. Pay attention to the companies, projects, and individuals she supports.
A grown man that larps as a panda on the internet to talk about crypto but I swear the dude knows his stuff.
CTO for one of the most widely used DeFi protocols, SushiSwap.
Has dropped so much NFT alpha in 2021 you should probably be forced to pay for his tweets.
Maybe the most serious and respected DeFi analyst on planet Earth.
The most trustworthy source for China-focused crypto analysis.
Tweets in his own language. Possibly Satoshi.
An account Stardust uses to talk to himself. Smol ting. The chronicler of crypto twitter.
Exactly what you think it is.
The best original crypto memes on Twitter.
Unbeatable research, charts, and analysis. Occasional blacked-out tweeting frenzies.
A tireless advocate for memes, shitposting, and the superiority of the metaverse.
Director of one of the most innovative current multichain projects, The Graph protocol.
Honest conversation regarding promising altcoin trades and the overall market.
Passed away in 2020. Was a legendary trader and early crypto adopter. Account is obviously no longer active, but there's priceless historical commentary and insight to be found within the tweet history.
Probably the most genuinely nice person on crypto Twitter.
Sometimes gets sidetracked posting food pictures like it's Instagram, but in general offers solid industry commentary.
Doesn't tweet a lot but always insightful.
One of the most experienced lawyers on the planet specializing in crypto.
A trader that clawed himself back from getting wrecked in 2018 to now being semi-retired. Basically worthless for trading insights these days because he doesn't have to try anymore. However, cranks out A1 reviews of weed edible products.
Brilliant writer and podcast host.
CEO of Pudgy Penguin NFTs.
Loomdart simp account.
Charts.
An absolutely essential follow if you want to get into NFTs.
Libertarian attorney. Self-described "blockchain nerd" but also one of the most reliably thorough skeptics of the entire space.
Crypto bro set on boiling the oceans with Bitcoin mining.
Crypto miner and trader with an eye for new and undervalued coins.
The most maximal of Bitcoin maximalists.
Doesn't tweet often, but worth paying attention when he/her/it does.
Runs the best crypto job placement agency on the planet. Also has depressing tweets about the Jets.
Director of Research at The Block, one of the industry's best news publications.
The Normal People Pulled Into Crypto
It's always good to make sure you're balancing out your Twitter feed. These accounts aren't 100% committed to posting about cryptocurrencies, but they do dabble. They'll help you gain the perspective of a knowledgeable outsider.
Probably owns 5% of the crypto supply but can't tweet about it directly because the SEC sucks. Ex-CEO of Dogecoin.
Legendary technical analyst and trader. Has an indicator named after him (Bollinger Bands). Super accessible and willing to discuss ideas with followers.
Another veteran trader of traditional markets whose attention has been captured by cryptocurrencies.
CFO of TradFi Twitter.
Went from hating on Bitcoin for half a decade to publicly linking an NFT collection via his Twitter bio.
Still rooted in crypto (he's a "smart contracts pioneer", but his commentary spans a wealth of other topics including political science, economics, and history.
Was ahead of the curve of the entire crypto industry on both Ethereum and NFTs.
Venture capitalist who famously purchased 30,000 BTC via the US government's first-ever auction of bitcoins. The bitcoins were seized from the illicit dark-web marketplace The Silk Road.
Had some of the most legendary tweets in crypto Twitter history.
Tai doesn't matter at all to the industry but he is the best indicator that you should sell some crypto. Started putting out Bitcoin content near the top of the 2017 bubble. Ended in early 2018. When he starts talking about crypto again, a new top is likely near.
The Exchanges
You won't get much in the way of commentary from these accounts, but they're an essential follow due to the effect that their announcements can have on the market.
[Total:

253

Average:

1.2

/5]