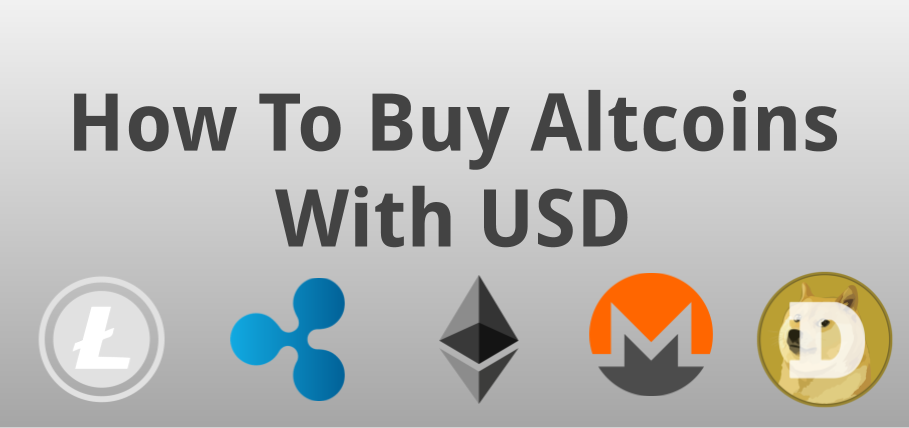 The below article is a how-to guide for getting started with buying altcoins from safe and reputable service providers. It is not investment advice. Altcoins are extremely volatile financial products and are always at risk of losing their value entirely. If you choose to invest in altcoins, I highly recommend educating yourself as much as possible beforehand on their fundamentals and current market structure. 
Princeton states, "Hundreds of altcoins, or alternative cryptocurrencies, have been started, either to fix Bitcoin's perceived flaws or to pursue different goals and properties."
While accurate at its core, that statement is a bit outdated. Currently there are thousands of different active altcoins. These coins are fundamentally attractive to investors for a few reasons, but the primary seems to be their volatility. Historical charts of altcoins offer snapshots of ludicrously rapid price increases and brutal market crashes.
If you've landed on this blog, you're likely looking to take part in this action. Below I'll walk through the best platforms to buy altcoins with USD and the pros and cons of each method.
How to Buy Altcoins With USD
Method 1 – Buy Altcoins Directly w/ Robinhood
Available Altcoins:
Bitcoin SV
Bitcoin Cash
Dogecoin
Litecoin
Ethereum Classic
Ethereum
Pros:
Referral bonus for signing up
No trading fees
Cons:
For investing only – you cannot deposit or withdraw altcoins
Robinhood is one of the easiest and most secure ways to buy altcoins with USD. The Robinhood app is primarily for trading stocks, but crypto trading was added as a feature in February of 2018. Here's how to buy altcoins with Robinhood:
1. Download the app and set up an account:
Setting up your account is very simple and done via their app. You will need to provide them your personal contact information, bank account information to fund your account, and a Social Security number.
This may sound like a lot of personal information, but it is needed due to stringent regulations they must comply with as an investing platform. If you don't mind providing this information, fill out the forms, connect your bank account, and you're good to start investing in crypto.
Once your account is funded, buying altcoins is remarkably simple. In the example below, I'll walk through how to buy Dogecoin:
2. Navigate to the dedicated page for your altcoin: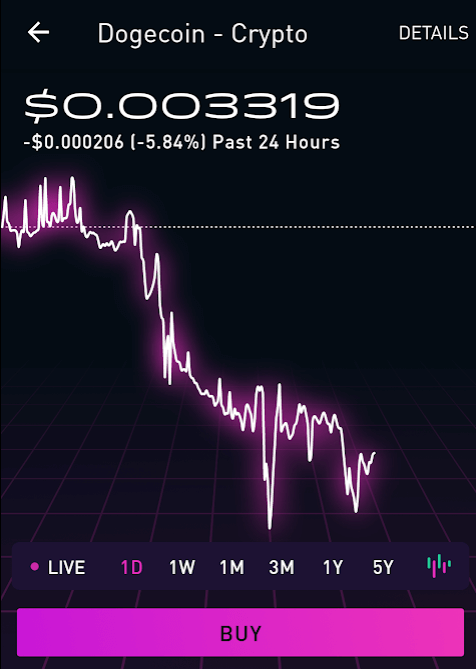 3. Enter how much you want to buy: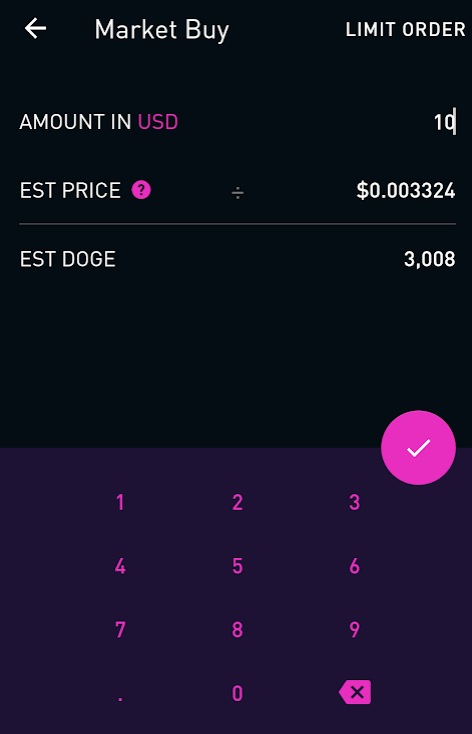 4. Confirm your order: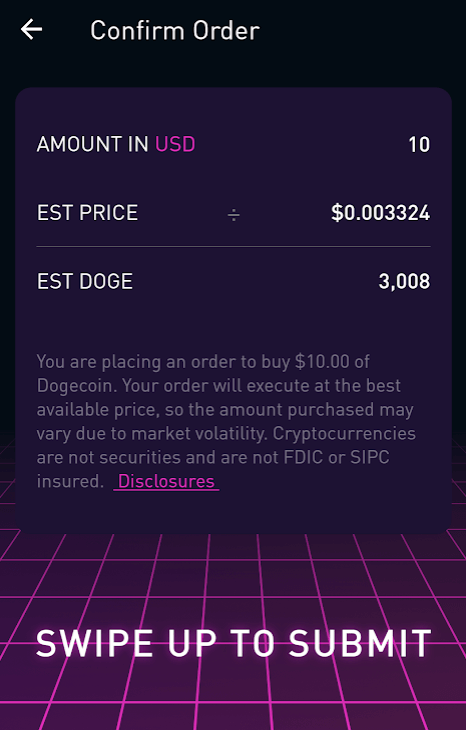 5. Enjoy your purchase: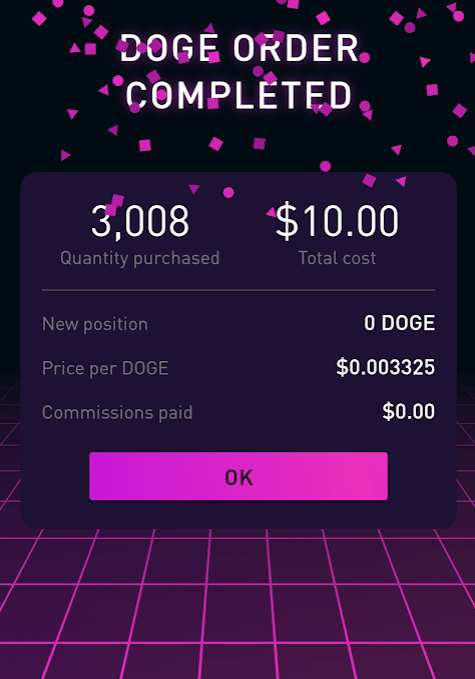 From here you will be able to check up on your altcoin investment at all times via the Robinhood app. On top of being easy to use, you also have the benefit of paying 0 commissions to Robinhood. It's hard to beat no-fee trading.
So what's the catch? Unfortunately, you cannot deposit or withdraw cryptocurrencies from your Robinhood account. Robinhood's statement on the matter is that "At this time we don't support coin withdrawals, though we plan to do so in the future." This means that if you want to do anything with your altcoins beyond simply investing, you will need to choose a different method within this article.
Only looking to invest? Then Robinhood will likely be your best bet. And, as an incentive, Robinhood offers free stocks to new users that sign up up via an invitation from existing users. You can get this offer and begin investing in altcoins by using my referral link below.
Method 2 – Buy Altcoins Directly w/ Coinbase
Available Altcoins:
0x
Atom
Augur
BAT
Bitcoin Cash
Bitcoin SV
Chainlink
Cosmos
DAI
Dash
EOS
Ethereum
Ethereum Classic
Kyber Network
Litecoin
Maker
OMG Network
Orchid
Stellar Lumens
Tezos
USDC
XRP
ZCash
Pros:
$10 referral bonus for signing up
Large selection of altcoins
Track-record of security
Cons:
Fees that are higher than a traditional exchange
Coinbase was one of the first ways most people in the US were able to buy Bitcoin, let alone altcoins with USD. Launched in October of 2012, they've been an integral part of the thrilling story of cryptocurrency since nearly the beginning. Officially, they claim "20M+ customers served" and "$150B+ in digital currency exchanged". There's no doubting the position they have as a powerhouse in the industry and the fact they have a track record of keeping funds safe for their clients.
1. Create your Coinbase account:
You can set up a Coinbase account on both their desktop platform or on mobile via their app. While you won't need to give up your Social Security number, you will need to provide a phone number and identification documents like a driver's license or a passport. There are options to create an account without giving up much personal information, but if you do so you will likely have very low purchase limits. This is because Coinbase restricts new accounts to prevent money laundering. Basically, the more information you can provide, the higher your purchase limits will be. Coinbase is also known to increase limits based on the age of your account and activity level.
Similar to Robinhood, Coinbase offers an incentive when you sign up via an invitation. If you use my referral link below, you will receive $10 of Bitcoin when you sign up and buy or sell $100 of bitcoin or more.
2. Browse their altcoins: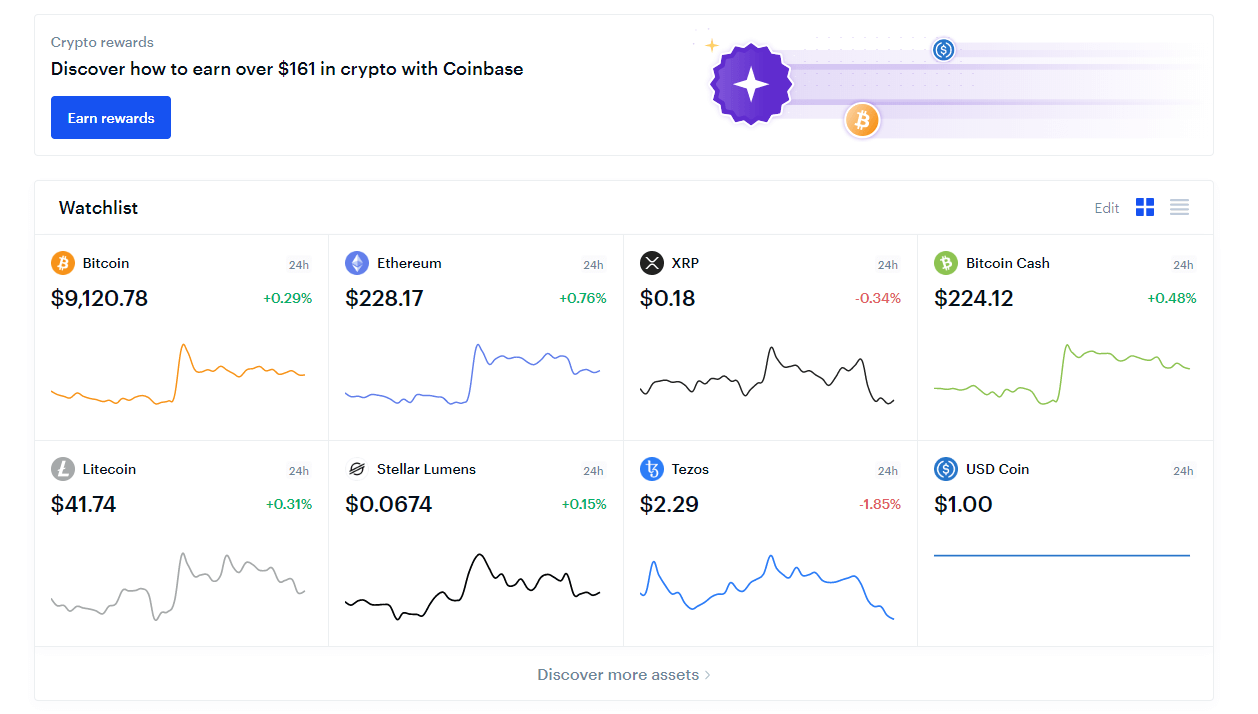 3. Select a coin: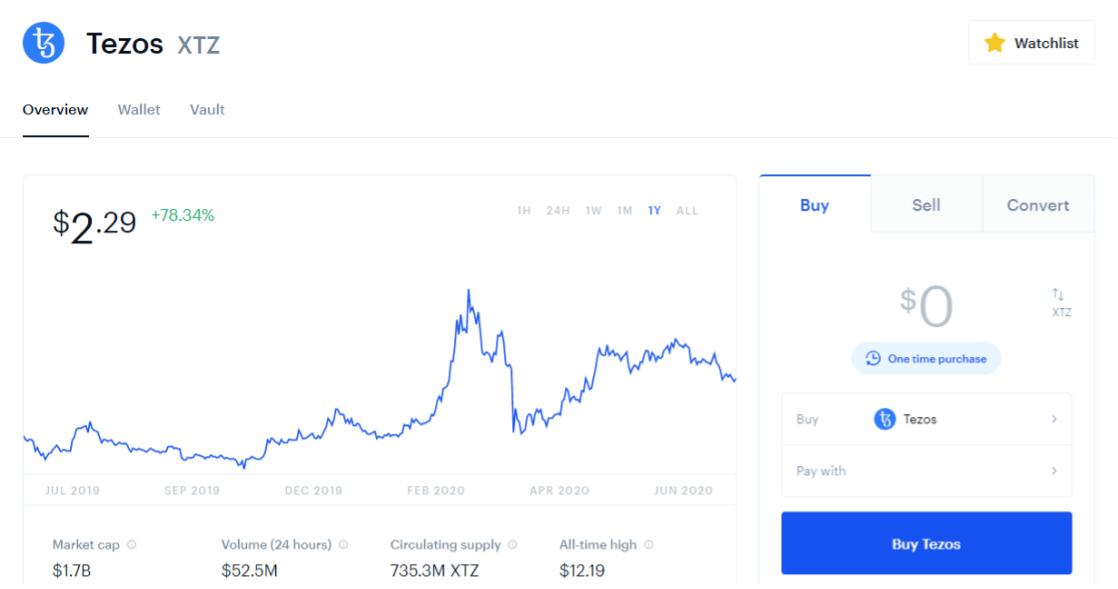 4. Enter your desired purchase amount: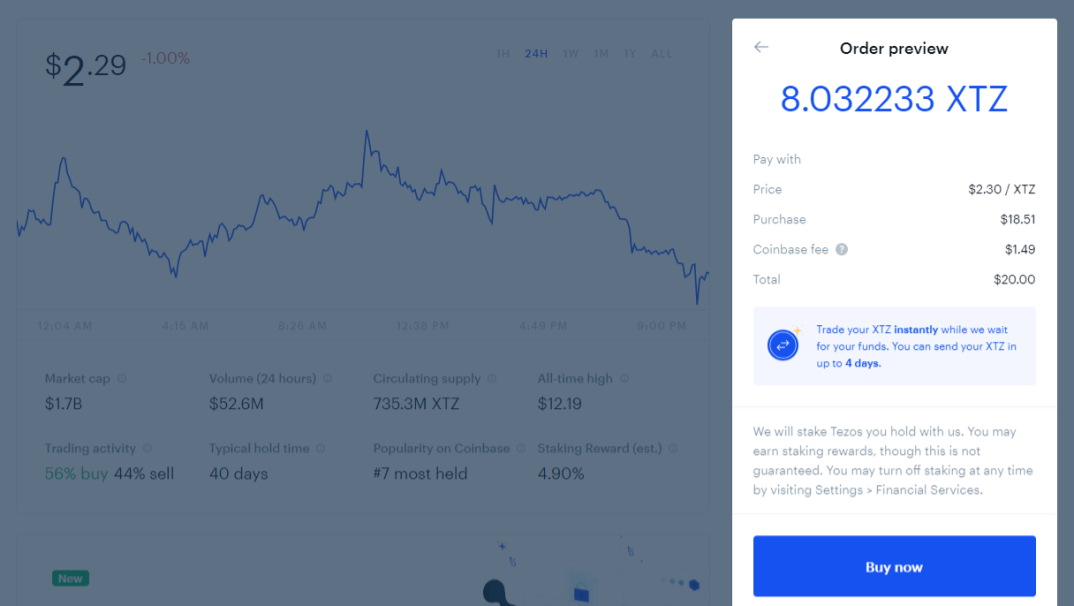 5. Enjoy your purchase:

Earlier we pointed out that when you use Robinhood you cannot deposit or withdraw cryptocurrencies, so it's also important to point out that this is a feature that is possible with Coinbase. This means that if you want to actually use cryptocurrency within an application or to make a purchase, Coinbase is going to be one of your best options. Side note: If you do decide to withdraw cryptocurrency from an exchange, to ensure the safety of your investment, we always recommend using a hardware wallet like a Trezor.
If Coinbase sounds like a match for you, but you're still not sure, I highly recommend reading our article on the best Coinbase alternatives. We dive into a few similar platforms while also going further into what makes Coinbase unique.
Reminder, Coinbase offers $10 of free Bitcoin when you sign up and buy or sell at least $100 of cryptocurrency. You can get this offer and begin buying altcoins with USD by using my referral link below.
Method 3 – Use a Cryptocurrency Exchange
Available Altcoins: The answer here is there are too many to list. For example, below you will see only a list of the USD-priced pairings available on a single exchange (Bittrex). This list doesn't even take into account the trade pairings available that are only priced in BTC (3x the amount of coins listed here). And then when you look at all other available cryptocurrency exchanges? At that point, you are able to access 99% of altcoins. The only ones left out of reach would be altcoins that are only available via cryptocurrency mining or other distribution systems like airdrops.
Again, here is just a sampling of the types of altcoins you can access if you learn to use standard cryptocurrency exchanges:
Cardano
Ethereum
Tether
Bitcoin SV
WAXP
Hedera Hashgraph
DigiByte
XRP
0x Protocol
Bitcoin Cash (ABC)
Siacoin
DAI
TrueUSD
Litecoin
Basic Attention Token
Enjin
Tezos
Chainlink
Hive
Algorand
Solve.Care
EOS
RavenCoin
TRON
USD Coin
Paxos Standard
Cosmos
ZCash
Komodo
Celo Native Asset
Dash
Ethereum Classic
Decred
Horizen
Stably Dollar
Pros:
Exchanges offer the largest selection of altcoins by far
Fees are usually low
You can deposit and withdraw all altcoins directly
Cons:
Most complex method for purchasing altcoins
Generally harder to deposit USD
This method opens up a ton of different possibilities for exactly how you will go about buying altcoins. This is because there are so many different cryptocurrency exchanges that you can choose from. For example, just for the altcoin Dogeoin, CoinMarketCap lists 50+ unique exchanges to choose from.
So how do we use an exchange? Your first step will be choosing exactly which one you want to create an account with. CoinMarketCap has a full list of popular exchanges that feature altcoin trading. I suggest using that as a starting point and investigating which individual exchange makes the most sense for your situation.
My personal top 3 (in order of preference) would be:
This is based on my personal levels of trust I have in these exchanges. Please keep in mind that many cryptocurrency exchanges are unregulated. This puts you at risk in the situation that an exchange is hacked and loses your funds, or that the exchange itself closes up shop overnight and runs off with your money. If I had to make the choice, I would say that these three exchanges are the least likely to run away with your funds or be hacked. But please understand that this is my personal opinion and not investment advice. There is always risk of losing your investment when dealing with cryptocurrency exchanges so please do your research and practice safe investing.
For this example I will be specifically walking through the purchasing process on a mix of screenshots from Bittrex and Binance. However, the steps outlined here will be the same across almost all popular cryptocurrency exchanges:
1. Create an account: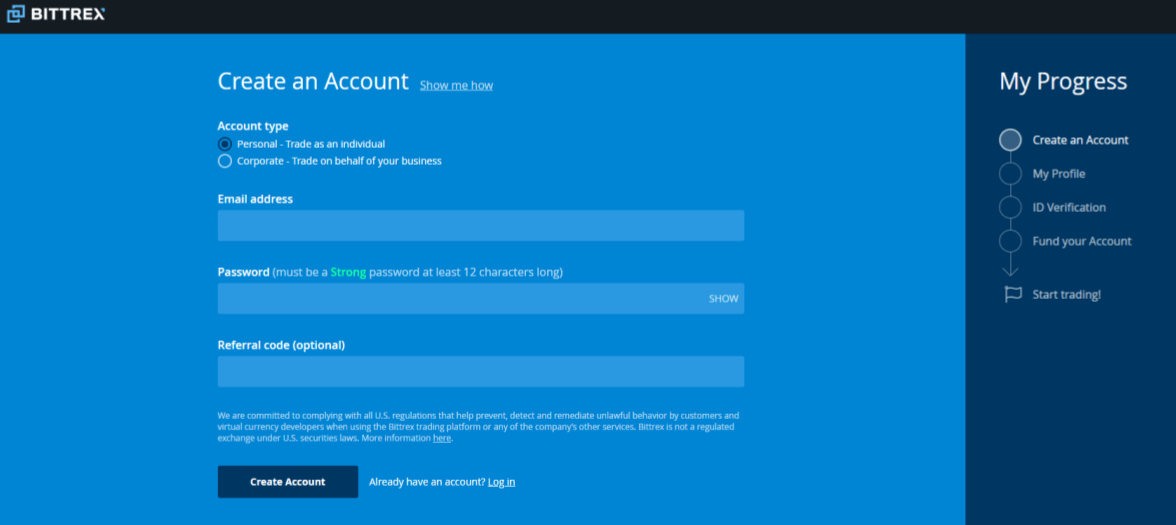 The details of this process will vary from exchange to exchange, but in general you will be required to submit at the very least an email and a password, then confirm your access to the email. Other exchanges will require you to take further steps like uploading a government issued identification document to comply with KYC (Know Your Customer) laws. While you may balk at giving a crypto exchange your personal information, I'll say that a general rule you can lean on is: the less an exchange asks of you in terms of personal information, the less you should expect from them in terms of service. An exchange that is taking the time to ask for KYC information is usually not planning to run off with customer funds. But, again, it's up to you to evaluate the risks and make the best decision you can.
Note #1: When you sign up to any cryptocurrency exchange, please be sure to choose a strong password and enable 2 Factor Authentication on your account (use Google Authenticator if possible, do not rely on 2FA via a phone number). This will protect your account from being hacked.
2. Fund your account:
Once your account has been created you will need to fund it. The easiest way to do this will almost always be to purchase Bitcoin elsewhere with USD, then send it to your individual exchange Bitcoin wallet address. The reason for this is because most altcoins are generally traded in BTC priced pairs. That is to say, the altcoin exchange process is priced against Bitcoin instead of against the US dollar or a similar fiat currency. Because of this you will likely need Bitcoin to trade many altcoins.
If you need to purchase Bitcoin to fund your account, I recommend Coinbase or one of the popular Coinbase Alternatives like Abra, CashApp, or Gemini.
Note #1: Be careful to ensure that the exchange you are using is, indeed, utilizing a BTC trading pair for your desired alt. There are some exchanges that instead utilize Ethereum pairs, or pairs utilizing stablecoins like USD Tether. In those cases, you will either need to fund directly with the altcoin pair's counterpart, or deposit Bitcoin, convert to the counterpart on the exchange, then finally trade for your desired altcoin.
Note #2: Some exchanges will allow you to fund your account directly via a bank account (Bittrex and Kraken do this) or via Credit Card (available on Binance US). In general, if you can fund via a bank account, this will be the cheapest option for purchasing altcoins on an exchange. This is because it cuts out crypto transaction fees of having to send Bitcoin, Ethereum, or something else to fund your exchange wallet. The trade off? Generally any exchange that allows attaching a bank account will have very strict KYC. So be prepared to upload a Government ID.
After being certain that you will be utilizing Bitcoin to trade for your altcoin of choice on an exchange, you will go to your account's deposit page. It should list a Bitcoin address:
You will need to copy this address and use a Bitcoin wallet to send however much in BTC that you want to convert to your desired altcoin. After your transaction is confirmed by the Bitcoin network, your balance should update: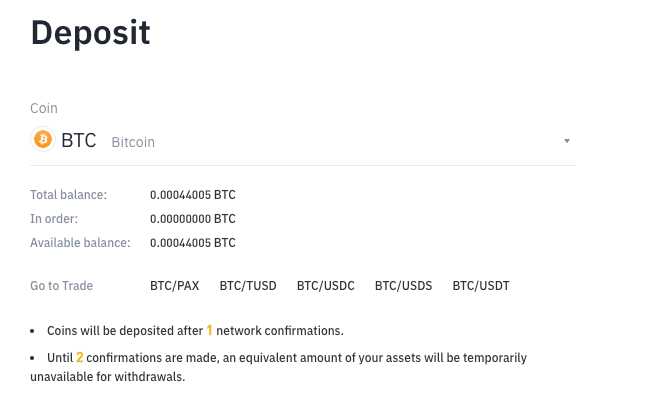 3. Make the trade:
You'll now navigate to the trading portion of the cryptocurrency exchange. Usually there will be a search box you can use to find the market you want to trade on. In the example below, I'll be buying Dogecoin. On Binance, I've searched "doge" and instantly found the DOGE/BTC market I was looking for:

After clicking on the market, you will be taken to a trading page: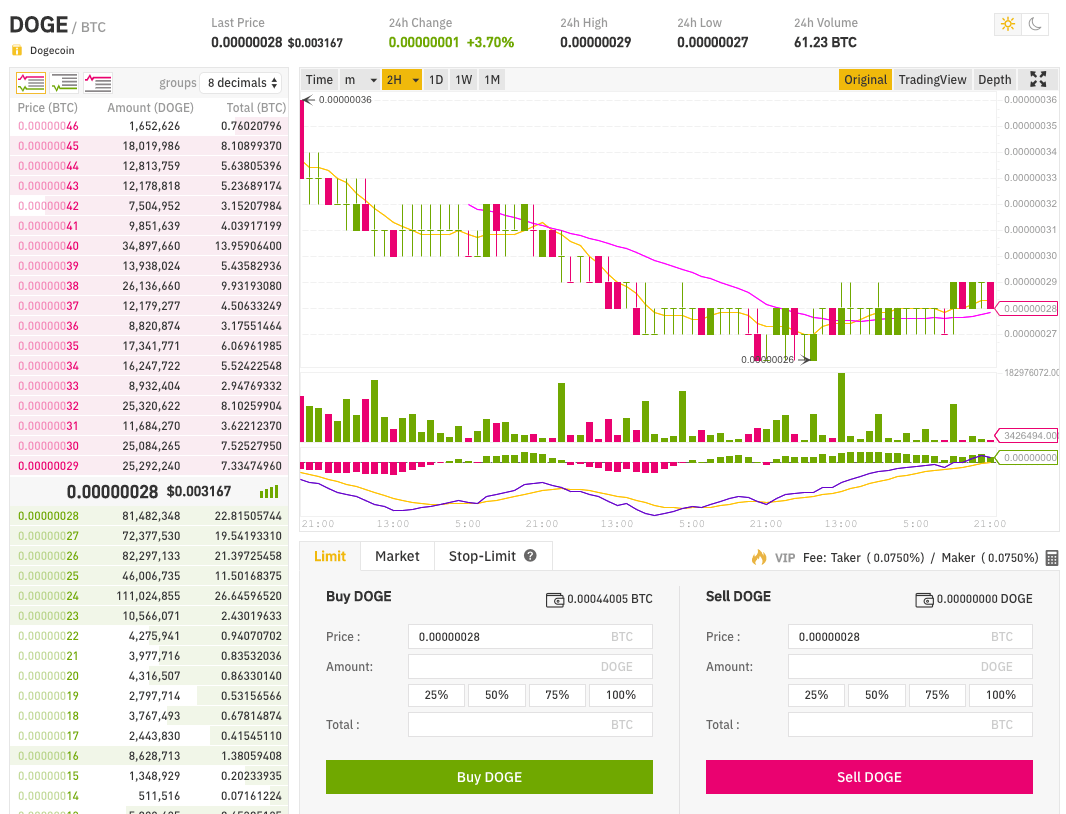 This is where you will make your final purchase. Again, different cryptocurrency exchanges will have different layouts, but in general the example you see here will be similar to what you find on most other exchanges. There will be a large graphic showing price history over time (top), a widget for buying the altcoin (bottom left), a widget for selling the altcoin (bottom right), and an order book (left sidebar).
The most important feature you'll want to look at is the order book on the left. This shows all of the existing buy and sell orders for your altcoin that are on the exchange. Reading this can become a bit complex, so I recommend this article if you want a full breakdown.
If you want to become a great trader of crypto, you will definitely want to spend some time learning all about order books and placing what are called "Limit Orders" for purchasing coins. These are orders where you place a bid for a coin at a certain price that you expect the coin to hit in the future. You aren't guaranteed that you will buy the coin at that price, but if you bid well, you may be able to get a bargain.
It's easy to get off track on the actual trading topic so I'll leave it at this: trading is an advanced skill and not recommended for beginners. If you want to learn, I recommend this study guide. If you don't want to take the time to learn, I recommend sticking to the steps outlined below.
If you want to take the straightforward path and buy altcoins as quickly as possible, you will simply want to create a Limit Order that is priced based on the lowest sell price on the exchange: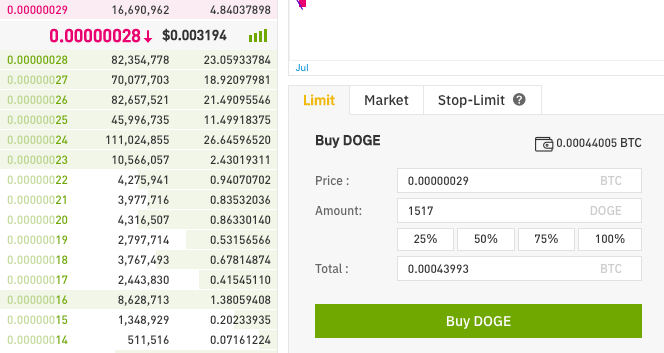 As we can see from the orderbook, the lowest current sell for Doge is .00000029. At that price, there is 16,690 Doge for sale. While the last price for Doge was .00000028, the orderbook shows us that there is no longer any Doge for sale at that price (for now). To ensure that our purchase happens as quickly as possible, we set our price to .00000029 because we know that there is already Doge for sale at that price. Next we select how much BTC we want to spend (in this case, as much as possible), and then hit "Buy Doge".
Note: This is by far the easiest place to make a horrible mistake when trading. One "0" in the wrong place could cause you to purchase far more of your desired altcoin at a far higher BTC price than you intended to. If this happens there is no guarantee you will get your money back. Double check and triple check that you are entering the correct order before moving forward.
If you entered all your information correctly, you should see a confirmation that your order has executed. Go back to the "wallet" portion of the exchange and you should now see that you are the proud owner of altcoins:

4. Withdraw to a wallet:
This next step is not essential, but it is highly recommended if you would like have complete control of your own coins: withdraw them from the exchange! I have covered the risks involved with cryptocurrency exchanges already in this article and these risks are the reason why any seasoned crypto user will tell you to NEVER trust an exchange to store your coins for you. The popular saying is "not your keys, not your coins" and, trust me, you do not want to learn this lesson the hard way. If you have the ability to withdraw your coins I believe you should make the best effort you can to do so every time.
There are a number of altcoin wallets you can choose from. I personally recommend the Coinomi wallet for small amounts of coins. For large amounts, I recommend a hardware wallet like a Trezor.
No matter what wallet you settle on, the process will be the same from here on out. Your wallet will provide you with a "receive" address. You will take this address, navigate to your exchange's "Withdraw" page, and select how much of your altcoin you want to withdraw. Double check and triple check that you put in the correct address, then go ahead and hit "submit":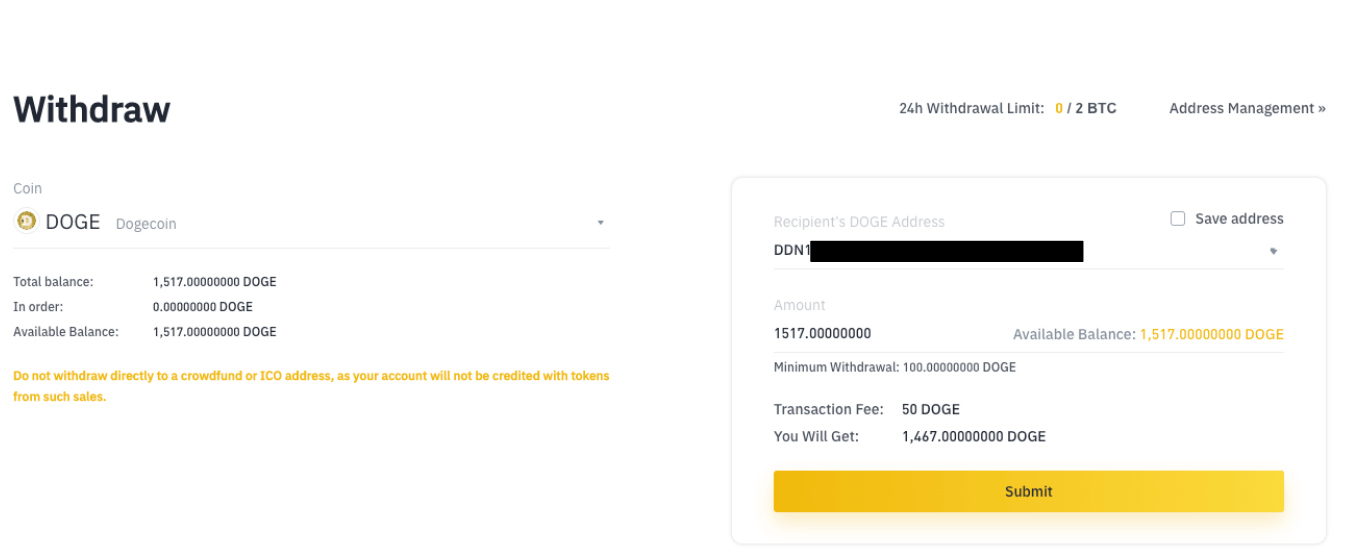 You will likely need to do some sort of confirmation even after this submission, in Binance's case it's an email. Follow the instructions from your exchange provider to ensure that the withdrawal is properly processed: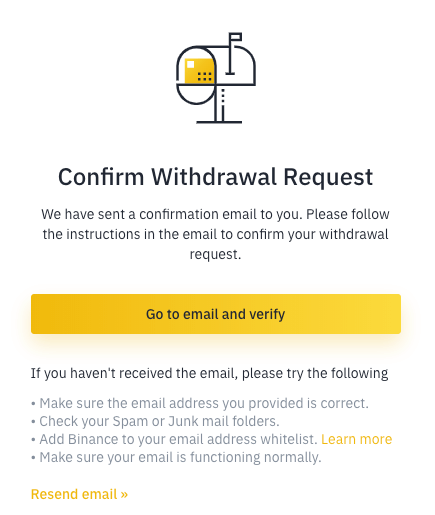 If all goes correctly, you should be able to confirm the withdrawal and you will see the transaction appear under your exchange's transaction history:

From here you are waiting for the exchange to process the transaction. This time will vary greatly from exchange to exchange and even from coin to coin, so be sure to check their terms and conditions or reach out to the support team if you are in dire need of the withdrawal being processed by a certain time. Support teams can't make special requests happen for you, but they can let you know if there are issues happening with withdrawals at any given moment. There is nothing worse than getting your purchase made in time only to miss out on whatever you needed the coins for due to transaction times.
The good news for us is that we're dealing with Dogecoin in this example and Doge happens to have some of the fastest transaction times of any coin. Six minutes after hitting the withdrawal button, my coins were confirmed in my private wallet: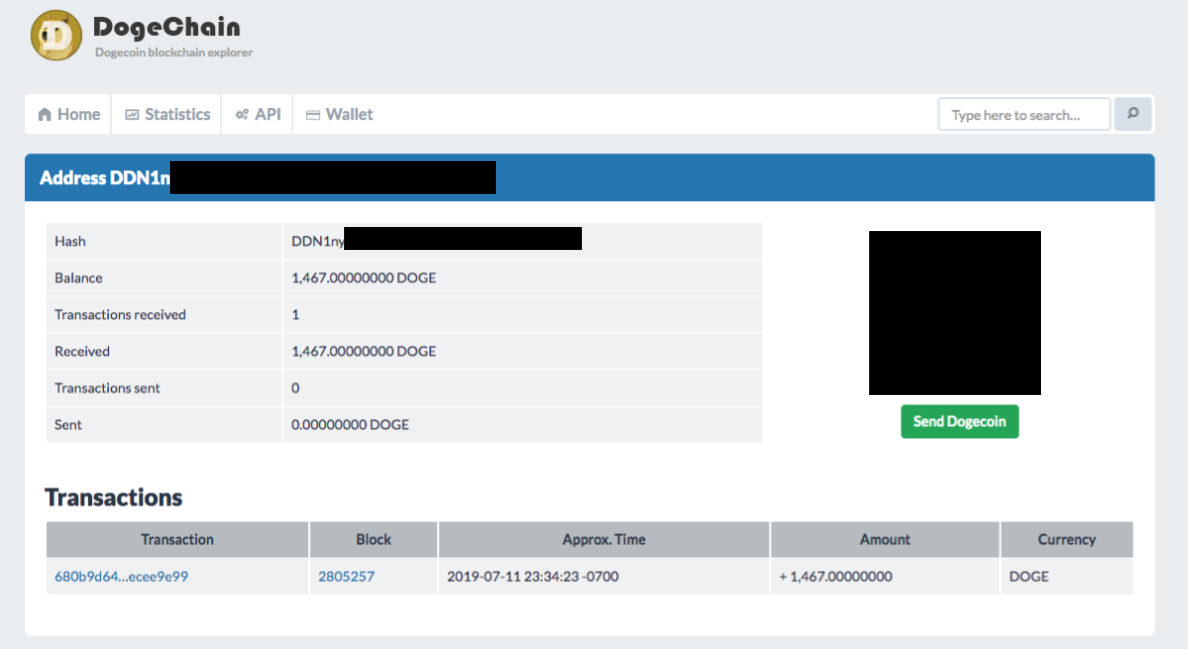 Once a withdrawal is confirmed on your altcoin's blockchain, you're ready to use your coins as you see fit! In the example above I used DogeChain.com, but this will only work for Dogecoin transactions. If you need to find a block explorer for your specific coin, I recommend visiting the website for your altcoin of choice. There will almost always be a block explorer that is recommended within the website.
Final Notes
Hopefully you've enjoyed this breakdown of how to buy altcoins with USD and it helps you find the perfect platform for your cryptocurrency needs. If you have any questions, please feel free to reach out to us via [email protected] or @postersofcrypto on Twitter.