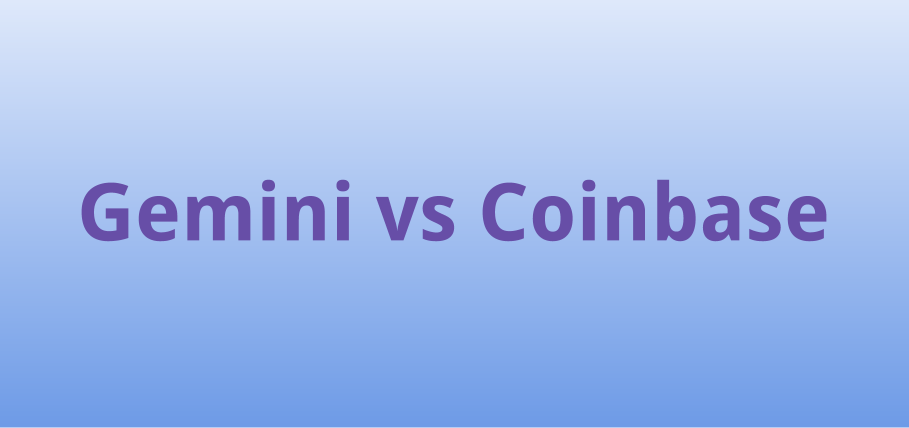 For crypto users around the world, Coinbase is widely recognized as the go-to platform for buying and selling Bitcoin and Altcoins. However, as the industry has developed, more and more Coinbase alternatives have popped up as well. One of the more interesting competitors to hit the scene is Gemini.
Gemini was founded in June 2013 by the infamous Winklevoss twins. The exchange has been running since 2015 but was slow to offer a retail product to individual investors as they sorted through the regulations of all 50 US States. However, all (save Hawaii) are now active.
The Gemini product offering is extremely similar to Coinbase as you'll see in the comparison table below. Gemini even offers their own US Dollar stablecoin that is built on Ethereum just like the USDC stablecoin from Coinbase. However, there are a few key differences between these two when you pull back the curtain.
Gemini vs Coinbase Breakdown
Here is the quick Gemini vs Coinbase comparison:
| | | |
| --- | --- | --- |
| Features | Gemini | Coinbase |
| Buy Bitcoin | Yes | Yes |
| Withdraw Bitcoin | Yes | Yes |
| Deposit Bitcoin | Yes | Yes |
| Sell Bitcoin | Yes | Yes |
| Buy Altcoins | Yes | Yes |
| Withdraw Altcoins | Yes | Yes |
| Deposit Altcoins | Yes | Yes |
| Sell Altcoins | Yes | Yes |
| Approximate Purchase Fees* | ~3% | ~3% |
| Excluded U.S. States | Hawaii | Hawaii |
| Sign-Up Reward | $10 | $10 |
The Case For Gemini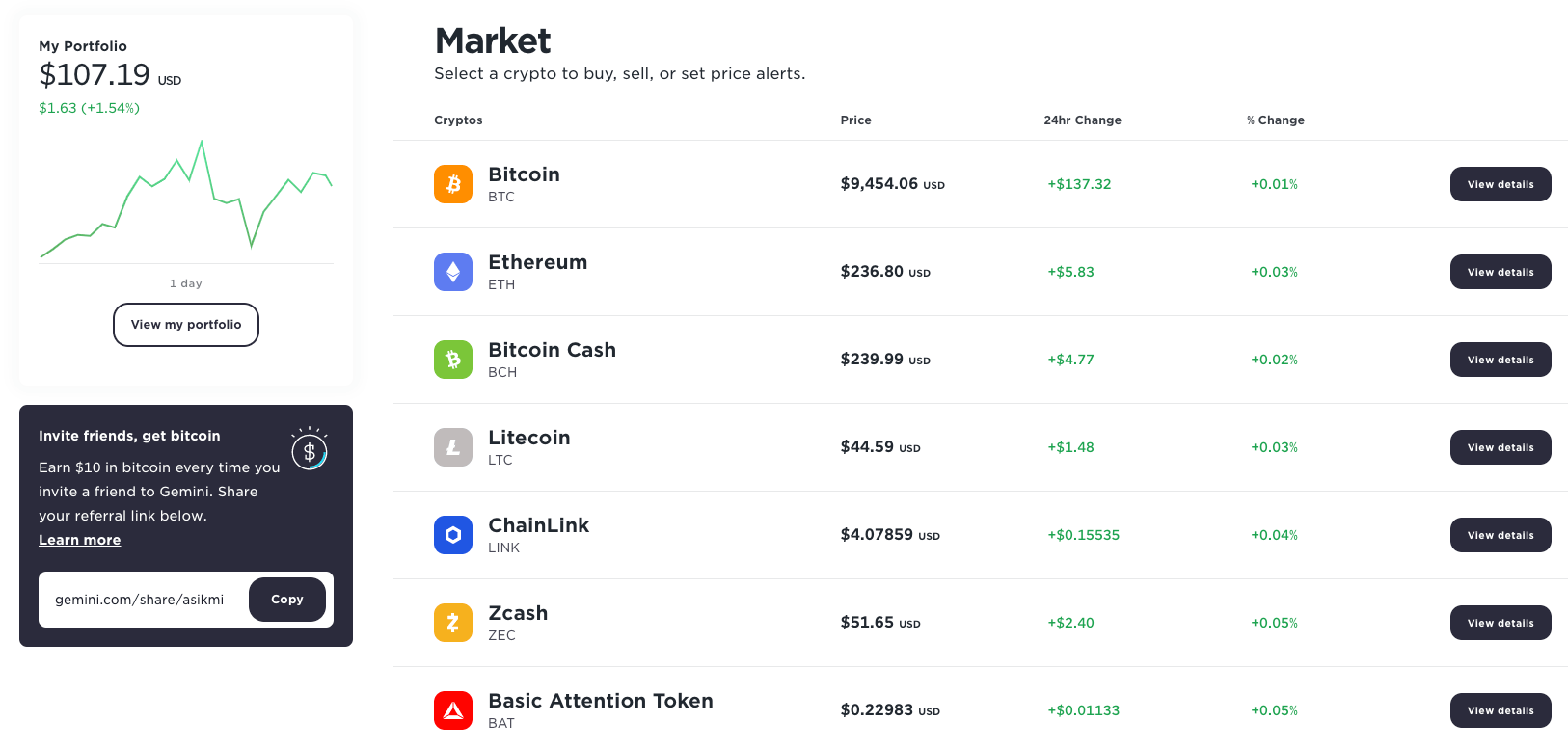 The highlight from the comparison table above is pretty straightforward…at the high level, there is no difference between these exchanges. So why would Gemini be your choice?
I think the decision centers around whether or not you want all the features of Coinbase…but for the exchange not to be Coinbase. If this is what you're looking for, Gemini is by far your best option on the market.
And why wouldn't you want Coinbase? Personally, I have no qualms against the exchange, but there have been rumblings amongst users that are worried about privacy and Coinbase selling information to government agencies. I have no doubt that similar things may be happening at Gemini (it's the sad reality of operating as a highly regulated cyrptocurrency exchange), but the current community mentality seems to be that Coinbase is the more egregious offender.
It's very important to note that Gemini is a custodial cryptocurrency exchange. What this means is that you do not have access to the private keys of your cryptocurrency. This means that you are relying on Gemini to ensure that your coins are not stolen. They have an excellent track record of security and boast "institutional grade crypto storage" and "the largest insurance coverage limit of any crypto custodian in the world", but any new user should realize that the safety of your crypto is completely dependent on their actions. And if you want to withdraw coins from the exchange, you will need their approval first.
Note: For more education on how private keys in cryptocurrency work (and how to store coins without an exchange) you can reference our blog on the Trezor hardware wallet.
As we noted above, Gemini and Coinbase hover around roughly the same 3% fee structure. But this is highly dependent on how much crypto you are purchasing. Their official fee schedule for web purchases (as of the date of this blog's publishing) is:
| WEB ORDER AMOUNT | TRANSACTION FEE |
| --- | --- |
| ≤ $10.00 | $0.99 |
| > $10.00 but ≤ $25.00 | $1.49 |
| > $25.00 but ≤ $50.00 | $1.99 |
| > $50.00 but ≤ $200.00 | $2.99 |
| > $200.00 | 1.49% of your Web Order value |
They also state the following in regards to fees:
The Convenience Fee is calculated at a rate of 0.50% (or 50 basis points) above the prevailing Gemini market price for a given trading pair at the time we provide you the Quoted Price. Your actual Convenience Fee may be greater or lower than 0.50% due to price movement in the market between the time we provide you the Quoted Price and the time your Web Order is filled; however, this will not affect the price you pay.
Gemini doesn't offer quite as many coins for purchase as Coinbase does (see the Coinbase breakdown below for a full list), but there is still a sizeable offering that you can purchase, deposit and withdraw from the platform:
Bitcoin
Ethereum
Bitcoin Cash
Litecoin
Chainlink
ZCash
BAT
DAI
Orchid
Gemini offers $10 in Bitcoin to new users that sign up and spend $100 within the first 30 days. You can get this offer by using my referral link below. If you would rather use Coinbase instead, you can use this link to receive $10 of free Bitcoin. Their offer is also tied to buying or sell at least $100 of cryptocurrency.
Setting Up Gemini
You can set up a Gemini account by either downloading their app or creating an account via their website. You will be required to provide standard identification information such as your name, address, and phone number. United States residents will also need to provide a social security number and identification documents for Gemini meet AML/KYC regulations. After this process is completed, your account will be created and you will be able to add money via Bank Transfer or by depositing crypto.
The Case for Coinbase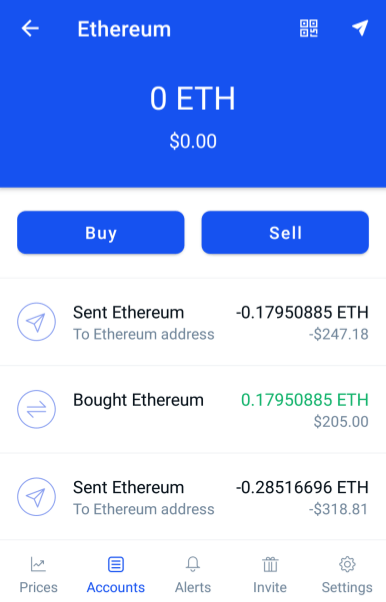 While Gemini is doing a great job of selling themselves as the "Not-Coinbase Coinbase", some people simply want the original. Launched in October of 2012, Coinbase has the distinction of being one of the first United States-based platforms to allow for the quick and easy purchase of Bitcoin via a bank transfer. At that time it was a huge step forward for the industry because many people were still wiring money to offshore exchanges when they wanted to buy Bitcoins. Having a simple purchasing platform in the United States was a game-changer for a geographic market that is now home to one of the world's largest concentrations of crypto users.
This first mover advantage has proven to be influential in their success. As of December 2018, they are one of four crypto exchanges in the world with more than 100,000 active users (and the only one based in the United States). Officially, they claim "20M+ customers served" and "$150B+ in digital currency exchanged". There's no doubting the position they have as a powerhouse in the industry.
Basically, if you want to buy and store crypto in the United States with a company that has the longest track record of success, they're your choice.
Like Gemini, Coinbase is a custodial wallet service which means that they keep track of the private keys to your crypto for you. While this means you have to trust them to not be hacked, it also protects you if you lose access to your phone or Coinbase password. You can simply reach out to their team to get access to your account again.
Buying and selling is a simple process with both their mobile app and desktop website. They even have a training section that allows new users to earn free crypto by competing learning exercises.
Along with allowing you to buy and sell coins, they are one of the world's top crypto wallet providers. On Coinbase, you can store, send, and receive:
Bitcoin
0x
Atom
Augur
BAT
Bitcoin Cash
Bitcoin SV
Chainlink
Cosmos
DAI
Dash
EOS
Ethereum
Ethereum Classic
Kyber Network
Litecoin
Maker
OMG Network
Orchid
Stellar Lumens
Tezos
USDC
XRP
ZCash
On top of this you receive access to their enterprise trading platform Coinbase Pro. There's a learning curve, but if you want to get in on the swings of cryptocurrency price action you'll find dramatically lower fees then trying to trade via their retail product.
Setting Up Coinbase
You can set up a Coinbase account on both their desktop platform or on mobile via their app. While you won't need to give up your Social Security number, you will need to provide a phone number and identification documents like a driver's license or a passport. There are options to create an account without giving up much personal information, but if you do so you will likely have very low purchase limits. This is because Coinbase restricts new accounts to prevent money laundering. Basically, the more information you can provide, the higher your purchase limits will be. Coinbase is also known to increase limits based on the age of your account and activity level.
Coinbase does offer an incentive when you sign up via an invitation. If you use my referral link below, you will receive $10 of Bitcoin when you sign up and buy or sell $100 of bitcoin or more.
Gemini vs Coinbase Summary
The key points to keep in mind when comparing Gemini vs Coinbase:
Coinbase and Gemini are relatively similar when it comes to their fee structure and usability
Coinbase offers almost 3x more coins for purchase than Gemini
They both offer a $10 bitcoin referral bonus
We hope you've enjoyed this breakdown of Gemini vs Coinbase and that it helps you find the perfect platform for your cryptocurrency needs. If you have any questions, please feel free to reach out to us via [email protected] or @postersofcrypto on Twitter.