Looking for a guide to the biggest NBA Top Shot accounts? Top Shot savant GarbageAnger has put together the following spreadsheet so you can track the movements of Top Shot whales as they swim through one of the most exciting new markets in the NFT space: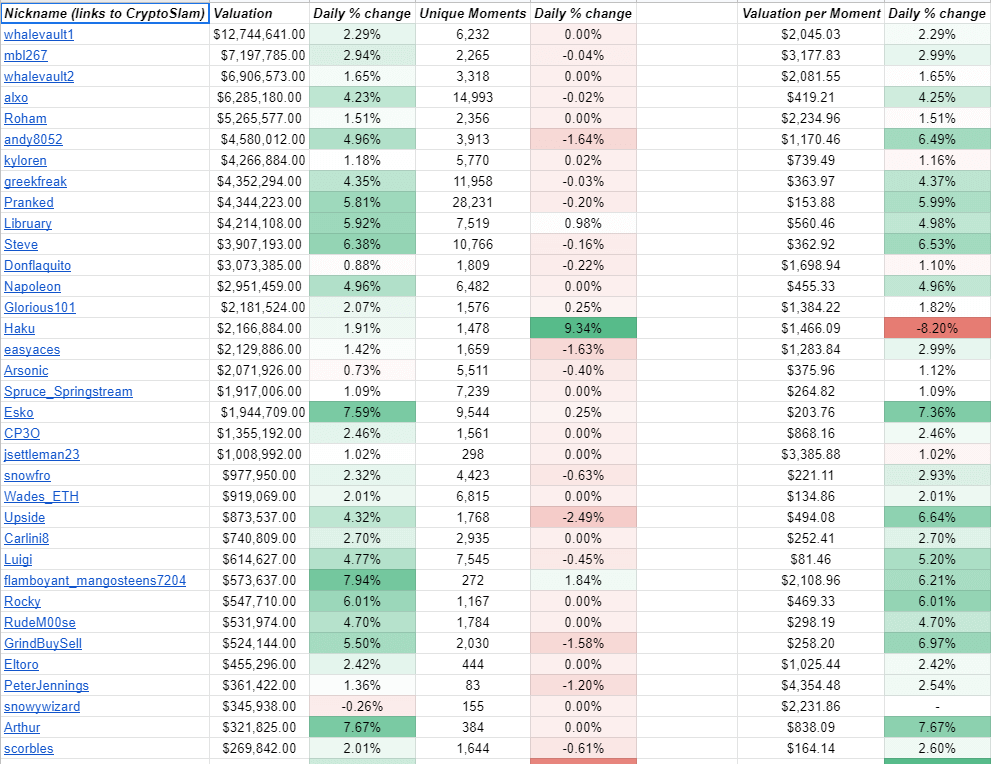 How does NBA Top Shot account valuation work?
NBA Top Shot account valuation is usually completed using tools such as intangible.market and evaluate.market. These sites gather current price info for all NBA Top Shot moments, then utilize that data to construct valuations for individual accounts.
What is NBA Top Shot?
Launched in October 2020, NBA Top Shot is an officially licensed marketplace for NFTs (Non-Fungible Tokens) based on NBA players and some of the league's most exciting moments. It represents one of the most interesting developments in the cryptocurrency space in recent memory. This is due to the high-profile nature of the NBA and the explosive interest the project has garnered in such a short period of time.
How do you get access to NBA Top Shot?
Getting access to NBA Top Shot is as simple as creating an account on the site, funding your account via a traditional debit/credit card or cryptocurrency, and participating in the open marketplace (or being lucky enough to score a pack of cards via a scheduled "drop").




How does NBA Top Shot work?
NBA Top Shot runs on the Flow blockchain. Flow is a fast, decentralized, and developer-friendly blockchain, designed as the foundation for a new generation of games, apps, and the digital assets that power them.