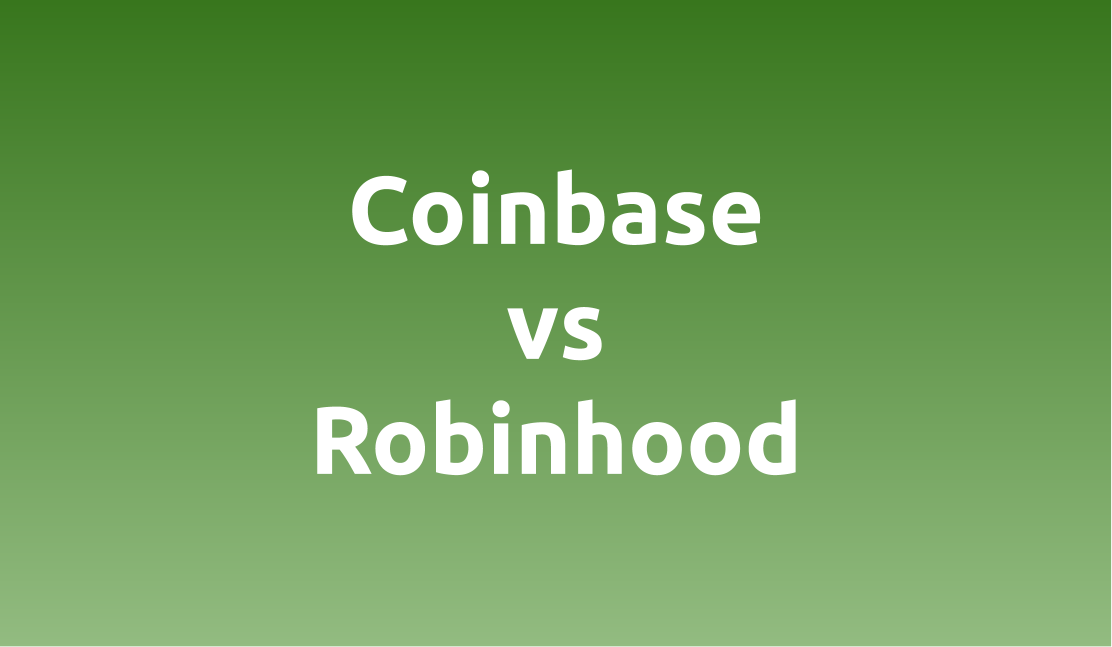 Coinbase vs Robinhood Buying Summary
Coinbase allows you to both store and export cryptocurrencies. Robinhood is only for trading, you do not have access to the coins.
Robinhood offers 7 possible cryptos to buy and sell. Coinbase offers 33.
Coinbase charges fees, while Robinhood offers free trading.
I've written this article to provide the most comprehensive Robinhood vs Coinbase comparison possible. Below, you'll find a table that quickly explains the biggest differences. Further below, you'll be able to find a case for each platform. You can also jump to those sections using the following links:
Please Note – I received no payment from the service providers listed to be featured in this blog. However, the links below do contain my own personal referral links for each platform.



Coinbase vs Robinhood Breakdown
Here is the quick comparison :
| | | |
| --- | --- | --- |
| Features | RH | Coinbase |
| Buy Bitcoin | Yes | Yes |
| Withdraw Bitcoin | No | Yes |
| Deposit Bitcoin | No | Yes |
| Sell Bitcoin | Yes | Yes |
| Buy Altcoins | Yes | Yes |
| Withdraw Altcoins | No | Yes |
| Deposit Altcoins | No | Yes |
| Sell Altcoins | Yes | Yes |
| Approximate Purchase Fees* | 0% | ~4% |
| Excluded U.S. States | 15 States | Hawaii |
| Sign-Up Bonus | Free Stock | $10 of Bitcoin |
Excluded states are Delaware, Hawaii, Kentucky, Louisiana, Maine, Maryland, Minnesota, Nebraska, Nevada, New Hampshire, New York, North Carolina, South Carolina, Vermont, and Wyoming.
Comparison Background
Coinbase has long been the most recognizable name in the cryptocurrency industry if you're a new user looking to buy your first coins. Launched in October of 2012, they have the distinction of being one of the first United States-based platforms to allow for the quick and easy purchase of Bitcoin via a bank transfer. Today, they offer cryptocurrency purchases to over 13 million users (as of Nov 2017) across 42 different countries. They are widely regarded as one of (if not the most) important firms for the entire industry.
Nonetheless, while Coinbase certainly has a dominant user base, there are a number of prominent Coinbase alternatives starting to make waves. One of the most interesting is Robinhood. Launched as a no-fee stock trading platform and boasting over 6 million users, Robinhood jumped into the crypto trading game in February of 2018. As possibly the only Coinbase competitor that can come anywhere near to boasting similar user numbers, many potential cryptocurrency traders are wondering which of the two is the better option.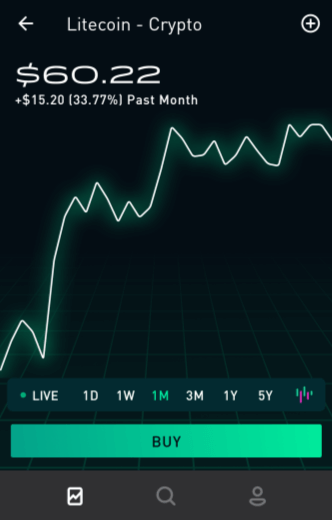 Let's get right to it: If your motivation for exploring cryptocurrencies is strictly focused on quick-and-easy investing instead of actually using cryptocurrency, Robinhood is likely the best choice for you. The reason for this is that Robinhood charges no fees on their trading, while Coinbase will always charge you fees.
As you may be realizing now from the giant list of excluded U.S. States, Robinhood is a platform that takes compliance and regulation seriously. They minimize their risk. While this means that less people are able to use the platform, it does offer one excellent benefit to those who do get to enjoy the platform: low fees.
Robinhood has made their name in the world of stocks by offering commission-free investing, and this is no different when it comes to their crypto offering. The price you see on Robinhood for bitcoins and other cryptos is the price you get. This is because it is a true marketplace and you are buying / selling against other users directly.
Like I mentioned at the beginning of the breakdown, this is excellent if you only want to invest in cryptocurrencies. But if you want to actually use crypto outside of the Robinhood app? You're out of luck. There is no ability for users to either deposit or withdraw bitcoin or altcoins from the app. Robinhood's statement on the matter is that "At this time we don't support coin withdrawals, though we plan to do so in the future."
However, if you have no problems with safe and simple investing via Robinhood's walled garden, it's hard to turn down their 0-fee approach. They also have a respectable selection of altcoin investment options including:
Bitcoin Cash
Bitcoin SV
Dogecoin
Ethereum
Ethereum Classic
Litecoin
Setting Up Robinhood
Setting up your account is done via their app, but they do request a little more information than the other providers in this article. For one, they require a Social Security Number. This is because of the stringent regulations they must comply with as a platform that sells traditional investment vehicles such as stocks. If you don't mind providing this information, fill out the forms, connect your bank account, and you're good to start investing in crypto.
As an incentive, Robinhood offers free stocks to new users that sign up up via an invitation from existing users. You can get this offer by using my referral link below.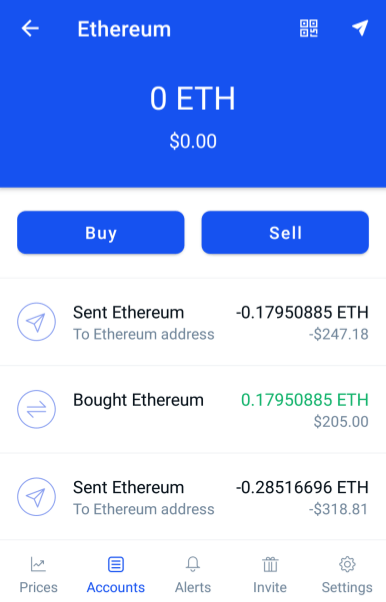 Now, if you're looking to do literally anything with cryptocurrency beyond investing, Coinbase is likely the best choice of these two options. The real genius of cryptocurrencies is the ability to freely use them as you wish in the real world, and Coinbase makes this possible. Buying and selling is a simple process with both their mobile app and desktop website. They even have a training section that allows new users to earn free crypto by competing learning exercises.
Along with allowing you to buy and sell coins, they are one of the world's top wallet providers. As of September 2020, Coinbase users have access* to store, send and receive :
Bitcoin (BTC)
Algorand (ALGO)
Cosmos (ATOM)
Band Protocol (BAND)
Basic Attention Token (BAT)
Bitcoin Cash (BCH)
Bitcoin SV (BSV)
Celo (CGLD)
Civic (CVC)
Dai (DAI)
Dash (DASH)
district0x (DNT)
EOS (EOS)
Ethereum (ETH)
Ethereum Classic (ETC)
Golem (GNT)
Kyber Network (KNC)
Chainlink (LINK)
Loom Network (LOOM)
Litecoin (LTC)
Decentraland (MANA)
Maker (MKR)
Numeraire (NMR)
OMG Network (OMG)
Orchid Protocol (OXT)
Augur (REP)
USD Coin (USDC)
UMA (UMA)
Stellar (XLM)
Ripple (XRP)
Tezos (XTZ)
Zcash (ZEC)
0x (ZRX)
*Note, some coins and features are not accessible to all users. You can see the full list of supported Coinbase cryptos here.
On top of this you receive access to their enterprise trading platform Coinbase Pro. There's a learning curve, but if you want to get in on the swings of cryptocurrency price action you'll find dramatically lower fees then trying to trade via their retail product. But the reality is, even Coinbase Pro can't match Robinhood's 0-fee approach.
Setting Up Coinbase
You can set up a Coinbase account on both their desktop platform or on mobile via their app. While you won't need to give up your Social Security number, you will need to provide a phone number and identification documents like a driver's license or a passport. There are options to create an account without giving up much personal information, but if you do so you will likely have very low purchase limits. This is because Coinbase restricts new accounts to prevent money laundering. Basically, the more information you can provide, the higher your purchase limits will be. Coinbase is also known to increase limits based on the age of your account and activity level.
Similar to Robinhood, Coinbase offers an incentive when you sign up via an invitation. If you use my referral link below, you will receive $10 of Bitcoin when you sign up and buy or sell $100 of bitcoin or more.
I hope you've enjoyed this breakdown of Robinhood vs Coinbase and that it helps you find the perfect platform for your cryptocurrency needs. If you have any questions, please feel free to reach out to via [email protected] or @postersofcrypto on Twitter.
[Total:

15

Average:

4.6

/5]